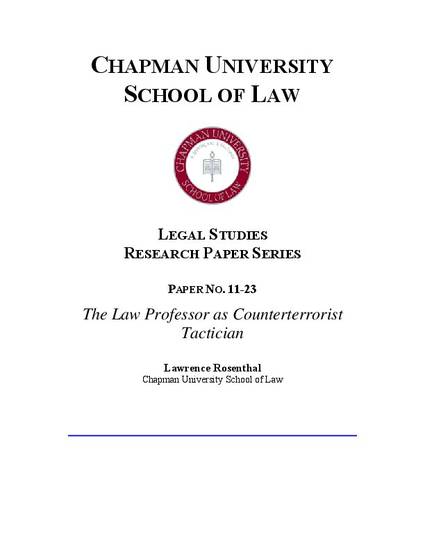 Article
The Law Professor as Counterterrorist Tactician
Texas Law Review (2010)
Abstract
This essay responds to Professor Aziz Huq's provocative article, "The Signaling Function of Religious Speech in Domestic Counterterrorism." Professor Huq contends that current counterterrorist doctrine overemphasizes the use of religious speech as a "signal' for incipient terrorist violence. He argues that the costs of this approach for religious liberty are significant, and its reliability suspect. Professor Huq's assessment of costs, however, overlooks that current doctrine permits only initiation of an investigation on the basis of religous speech, while even Professor Huq's suggested reforms would require consideration of a potential investigative subject's speech if they were operationalized. His proposals might make things worse. Professor Huq urges investigators to focus on subtle, nuanced, local discursive contexts, without considering whether the risk of error likely to inhere in such difficult inquiries exceeds the risk of error at present. Moreover, Professor Huq recommends investigative techniques that depend on community cooperation, even though, as he acknowledges, the insularity of incipient terrorist cells not only makes them difficult to detect, but also means that they are unlikely to come to the attention to community members willing to cooperate with the authorities. In contrast, current doctrine, Professor Huq admits, relies on the most readily available signals and therefore minimizes search costs -- a not inconsiderable virtue. Politically accountable officials have powerful incentives to utilize effective counterterrorist tactics. Academics, in contrast, are effectively accountable to no one. The apparent unwillingness of those who are politically accountable for counterterrorist policy to put their eggs in Professor Huq's basket of counterterrorism reforms should give us pause.
Citation Information
Lawrence Rosenthal,
The Law Professor as Counterterrorist Tactician
, 89
Tex. L.Rev.
113 (2010). Available at: http://works.bepress.com/lawrence_rosenthal/14