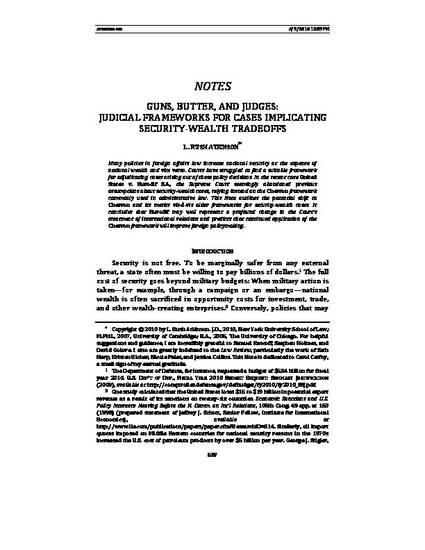 Article
Guns, Butter and Judges: Judicial Frameworks for Cases Implicating Security-Wealth Tradeoffs
New York University Law Review (2010)
Abstract
In foreign affairs law, many federal policies increase national security at the expense of national wealth, and vice versa. Courts have struggled to find a suitable framework for adjudicating cases arising out of such policy decisions. In the recent case United States v. Eurodif S.A., the Court abandoned its previous assumptions about security-wealth cases, relying instead on the Chevron framework commonly used in administrative law. This Note outlines the shift to Chevron and the relative merits of it vis-à-vis older frameworks for security-wealth cases. It concludes Chevron represents a profound change in the Court's assumptions about international relations and predicts that this framework, if continued, will have a positive effect on foreign policymaking.
Publication Date
Spring May, 2010
Citation Information
L. Rush Atkinson. "Guns, Butter and Judges: Judicial Frameworks for Cases Implicating Security-Wealth Tradeoffs"
New York University Law Review
Vol. 85 Iss. 2 (2010)
Available at: http://works.bepress.com/lawrence_atkinson/3/