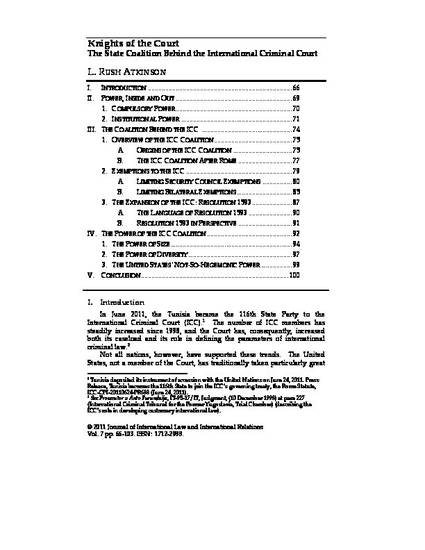 Article
Knights of the Court: The State Coalition Behind the International Criminal Court
Journal of International Law & International Relations (2011)
Abstract
In its first years of operation, both the caseload and global role of the International Criminal Court (ICC) have steadily increased. The Court owes much of its success to a coalition of states that has championed a strong, independent judiciary to try heinous international crimes. These states have repeatedly clashed with the United States over a number of issues involving the ICC's jurisdiction. This article examines the pro-ICC coalition and its strategies during these disputes. It argues that the coalition's success stems from the make-up of its membership, which endows it with varied sources of power and tempers its principled positions with an understanding of the political realities of the international order. The ICC coalition also serves as a case study of the power politics behind the formation of international law. While international law continues to be forged under the forces of realpolitik, this coalition's success indicates that power-forged international law does not have to be the handmaiden of the most powerful states.
Keywords
International Criminal Court,
Security Council,
United Nations
Citation Information
Lawrence R Atkinson. "Knights of the Court: The State Coalition Behind the International Criminal Court"
Journal of International Law & International Relations
Vol. 7 Iss. 1 (2011)
Available at: http://works.bepress.com/lawrence_atkinson/1/