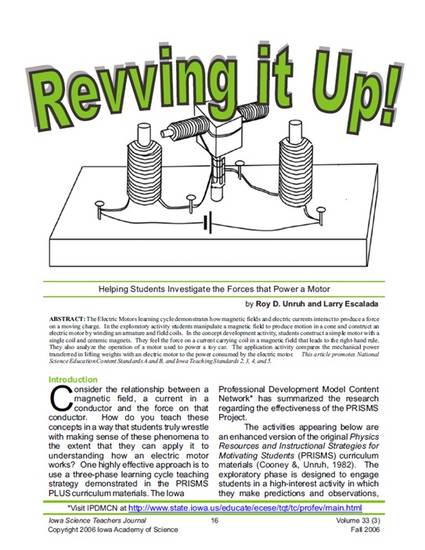 Article
Revving it up! Helping Students Investigate the Forces that Power a Motor
Iowa Science Teachers Journal (2006)
Abstract
The Electric Motors learning cycle demonstrates how magnetic fields and electric currents interact to produce a force on a moving charge. In the exploratory activity students manipulate a magnetic field to produce motion in a cone and construct an electric motor by winding an armature and field coils. In the concept development activity, students construct a simple motor with a single coil and ceramic magnets. They feel the force on a current carrying coil in a magnetic field that leads to the right-hand rule. They also analyze the operation of a motor used to power a toy car. The application activity compares the mechanical power transferred in lifting weights with an electric motor to the power consumed by the electric motor. 
Publication Date
Fall 2006
Citation Information
Roy D. Unruh and Lawrence Todd Escalada. "Revving it up! Helping Students Investigate the Forces that Power a Motor"
Iowa Science Teachers Journal
Vol. 33 Iss. 3 (2006) p. 16 - 21
Available at: http://works.bepress.com/lawrence-escalada/2/