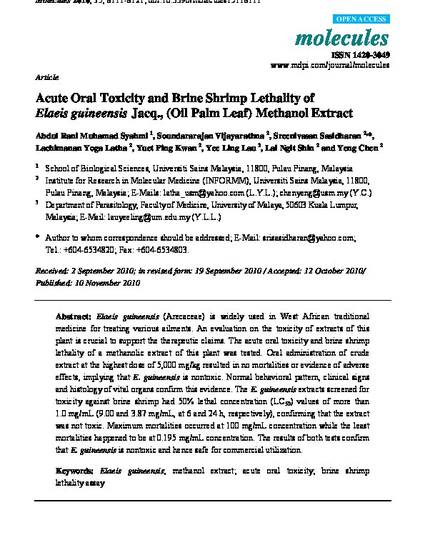 Article
Acute oral toxicity and brine shrimp lethality of Elaeis guineensis Jacq., (oil palm leaf) methanol extract
Molecules (2010)
Abstract
Elaeis guineensis (Arecaceae) is widely used in West African traditional medicine for treating various ailments. An evaluation on the toxicity of extracts of this plant is crucial to support the therapeutic claims. The acute oral toxicity and brine shrimp lethality of a methanolic extract of this plant was tested. Oral administration of crude extract at the highest dose of 5,000 mg/kg resulted in no mortalities or evidence of adverse effects, implying that E. guineensis is nontoxic. Normal behavioral pattern, clinical signs and histology of vital organs confirm this evidence. The E. guineensis extracts screened for toxicity against brine shrimp had 50% lethal concentration (LC(5)(0)) values of more than 1.0 mg/mL (9.00 and 3.87 mg/mL, at 6 and 24 h, respectively), confirming that the extract was not toxic. Maximum mortalities occurred at 100 mg/mL concentration while the least mortalities happened to be at 0.195 mg/mL concentration. The results of both tests confirm that E. guineensis is nontoxic and hence safe for commercial utilization.
Keywords
Animals Arecaceae/*chemistry Artemia/*drug effects Methanol/*chemistry Plant Extracts/*chemistry/*toxicity Plant Leaves/*chemistry Toxicity Tests
Citation Information
lau yee ling. "Acute oral toxicity and brine shrimp lethality of Elaeis guineensis Jacq., (oil palm leaf) methanol extract"
Molecules
(2010)
Available at: http://works.bepress.com/lauyeeling/3/