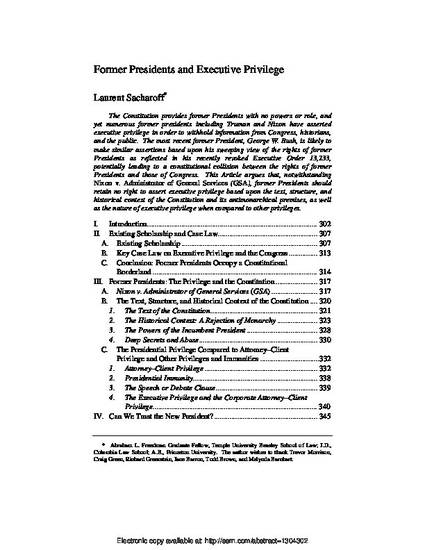 Article
Former Presidents and Executive Privilege
Temple University Legal Studies (2009)
Abstract
The Constitution provides former Presidents with no powers or role, and yet numerous former Presidents including Truman and Nixon have asserted executive privilege in order to withhold information from Congress, historians, and the public. The most recent former President, George W. Bush, is likely to make similar assertions based upon his sweeping view of the rights of former Presidents as reflected in his recently revoked Executive Order 13,233, potentially leading to a constitutional collision between the rights of former Presidents and those of Congress. This article argues that notwithstanding Nixon v. Administrator of General Services, former Presidents should retain no right to assert executive privilege based upon the text, structure and historical context of the Constitution and its antimonarchical premises, as well as the nature of executive privilege when compared to other privileges.
Keywords
executive privilege,
presidential privilege,
state secrets,
Nixon,
Miers,
Conyers,
Judiciary Committee,
Constitution,
Constitutional,
Separation of Powers,
Article II
Publication Date
December 1, 2009
Citation Information
Laurent Sacharoff. "Former Presidents and Executive Privilege"
Temple University Legal Studies
(2009)
Available at: http://works.bepress.com/laurent-sacharoff/1/