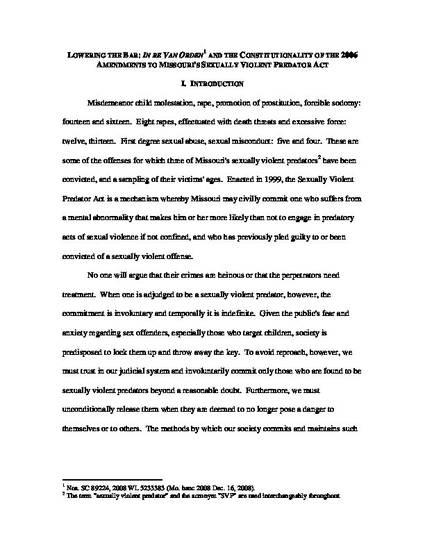 Unpublished Paper
Lowering the Bar: In re Van Orden and the Constitutionality of the 2006 Amendments to Missouri's Sexually Violent Predator Act
ExpressO (2009)
Abstract
Beginning in 1990, states began enacting statutes for the involuntary civil commitment of sexually violent predators. Missouri amended its Sexually Violent Predator Act in 2006. Significantly, the Missouri Legislature reduced the burden of proof necessary to commit such individuals, and implemented a program for their conditional release. The Missouri Supreme Court recently addressed the amendments in In re Van Orden, and upheld the lower burden of proof against constitutional attack. Focusing on Supreme Court of the United States' precedent, the article argues that the 2006 amendments are a blemish on the legislature and the judiciary alike. The paper asserts that, while the Supreme Court of the United States does not mandate the higher burden of proof in SVP commitment proceedings, we must recognize that they are punitive and often permanent in effect. The proceedings subject an individual to indefinite confinement and a lifetime of stigmatization, and therefore we must trust in the judicial process and accord even sex offenders the highest level of due process. This article further addresses the newly-implemented conditional release program and argues that it is potentially unconstitutional. Given the number of jurisdictions that have enacted similar statutes in recent years, I believe the article has import for many jurisdictions.
Publication Date
May 27, 2009
Citation Information
Lauren A Standlee. "Lowering the Bar: In re Van Orden and the Constitutionality of the 2006 Amendments to Missouri's Sexually Violent Predator Act"
ExpressO
(2009)
Available at: http://works.bepress.com/lauren_standlee/1/