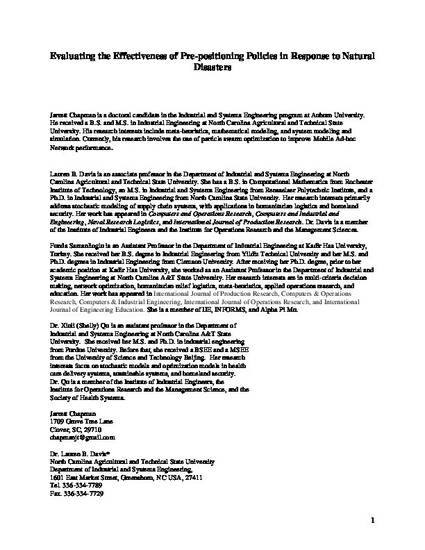 Article
Evaluating the Effectiveness of Prepositioning Policies in Response to Natural Disasters
International Journal of Operations Research and Information Systems (2012)
Abstract
Recent natural disasters highlight the complexities associated with planning, coordination and distribution of supplies in a manner which provides timely and effective response. In this paper, we present a model to quantify the benefits associated with pre-positioning local supplies. We assume the supplies are in a high-risk location and may be destroyed if an appropriate strategy to protect the supplies is not implemented. A stochastic linear programming model is developed where the first-stage decision pre-positions existing supplies to minimize the supply loss. Second-stage decisions attempt to maximize the responsiveness of the system by allocating supplies to satisfy demand. The benefits associated with pre-positioning versus non-pre-positioning are discussed.
Keywords
Pre-Positioning,
Stochastic Programming,
network flow,
supply damage,
humanitarian relief
Citation Information
Jarrett Chapman, Lauren B Davis, Funda Samanlioglu and Xiuli Qu. "Evaluating the Effectiveness of Prepositioning Policies in Response to Natural Disasters"
International Journal of Operations Research and Information Systems
Vol. 2014 Iss. 5 (4) (2012)
Available at: http://works.bepress.com/lauren_b_davis/6/