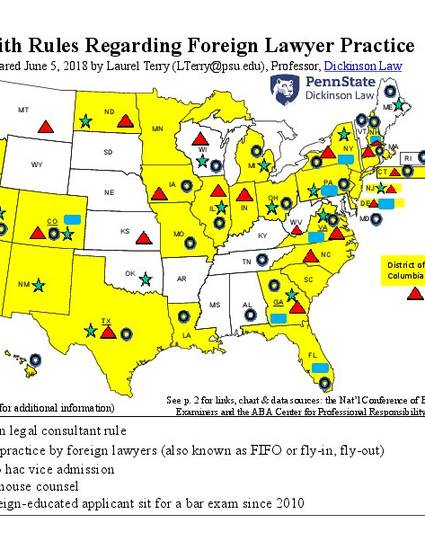 Handout
US State Implementation of 5 Methods of Foreign Lawyer Practice in the United States
Cross Border Legal Practice (2018)
Description
This document was originally prepared for a Jan. 2014 presentation on Globalization and Regulation for the Conference of Chief Justices. Since that time, I have regularly updated this map which shows state implementation of the five methods of ACTIVE foreign lawyer practice in the U.S.
This document presents data collected by other entitites, including the ABA Center for Professional Responsibility and the National Conference of Bar Examiners. I periodically update this document and replace it with the most recent version. (To confirm that the most recent version is here, email Laurel Terry at Penn State Dickinson Law (LTerry@psu.edu).
Keywords
foreign legal consultant,
FLC,
temporary practice,
FIFO,
foreign in-house counsel,
ABA MJP Recommendation 8,
ABA MJP Recommendation 9,
ABA 20/20 foreign lawyer recommendation,
foreign educated bar applicants
Publication Date
June, 2018
Citation Information
Laurel S. Terry, Jurisdictions with Rules Regarding Foreign Lawyer Practice (June 5, 2018), available at https://works.bepress.com/laurel_terry/80/
Creative Commons license
This work is licensed under a Creative Commons CC_BY-NC International License.