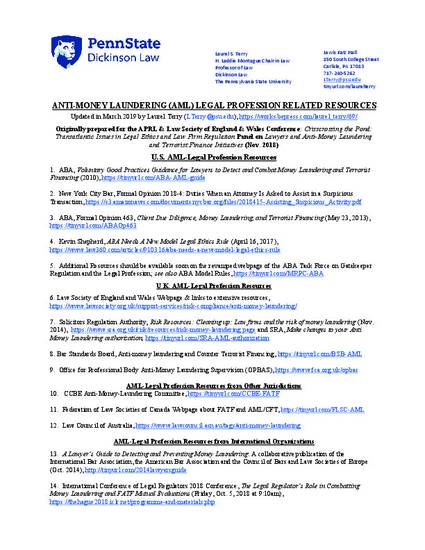 Other
ANTI-MONEY LAUNDERING (AML) LEGAL PROFESSION RELATED RESOURCES (Updated March 2019)
(2019)
Abstract
This document is a bibliography of resources related to anti-money laundering (AML) initiatives related to lawyers and the legal profession.  This document is an updated version of the document that originally was prepared for the panel on Lawyers and Anti-Money Laundering and Terrorist Finance Initiatives at the Nov. 2018, APRL/LSEW Conference entitled Crisscrossing the Pond: Transatlantic Issues in Legal Ethics and Law Firm Regulation.
This Resources document contains links to U.S., U.K, EU, Canadian, and Australian legal profession-AML resources, as well as links to FATF webpages and documents that include the FATF Mutual Evaluations page, the 2008 and 2019 FATF RBA for Legal Professionals, the US Voluntary Good Practices Guidance, and the IBA-ABA-CCBE Lawyer's Guide to Detecting and Preventing Money Laundering.  This "AML-Legal Profession Resources" document also includes links to law review Symposia about the FATF 40 Recommendations, and law review articles, presentation slides, a "two-pager" that summarizes the "red flags" listed in the Voluntary Good Practices Guidance document, and other materials by Laurel Terry related to the topic of the Financial Action Task Force (FATF), and anti-money laundering (AML) regulations that apply to lawyers and the legal profession. 
The author welcomes contact from scholars, regulators, and others who have similar interests. She is a faculty member at Penn State Dickinson Law in the United States. 
Her articles on this topic include: 
1.  Laurel S. Terry and José Carlos Llerena Robles, The Relevance of FATF's Recommendations and Fourth Round of Mutual Evaluations to the Legal Profession, 42 Fordham Int'l L. J. 627 (2018),
https://works.bepress.com/laurel_terry/87/
2.  Laurel S. Terry, U.S. Legal Profession Efforts to Combat Money Laundering & Terrorist Financing, New York Law School Symposium on Combating Threats to the International Financial System: The Financial Action Task Force,  59 N. Y. L. S. L. Rev. 487 (2015),
https://works.bepress.com/laurel_terry/29/ 
Keywords
FATF,
Financial Action Task Force,
AML,
antimoneylaundering,
lawyers,
legal profession,
bibliography,
resources,
RBA for Legal Professionals,
FATF Mutual Evaluations,
red flags
Citation Information
Laurel S. Terry, ANTI-MONEY LAUNDERING (AML) LEGAL PROFESSION RELATED RESOURCES (Updated March 2019), https://works.bepress.com/laurel_terry/69/