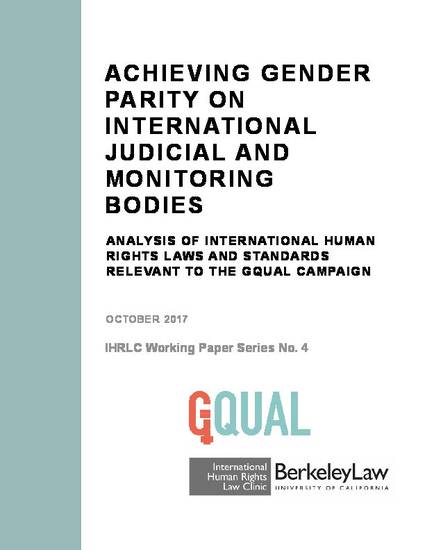 Unpublished Paper
Working Paper: Achieving Gender Parity on International Judicial and Monitoring Bodies: Analysis of International Human Rights Law and Standards Relevant to the GQUAL Campaign
IHRLC Working Paper Series No. 4 (2017)
Abstract
Women are underrepresented in virtually every international body responsible for
adjudicating, monitoring, and developing international law. As of February 2017,
three of the 15 judges on the International Court of Justice are women; the
International Tribunal for the Law of the Sea has 21 judges, only one of whom is a
woman; and the International Criminal Tribunal for the Former Yugoslavia has no
permanent women judges. Additionally, women comprise no more than 30% of the
aggregate of the members of the United Nations Human Rights Committee, the
Committee on Economic, Social and Cultural Rights, and the Committee against
Torture. States are ultimately responsible for this state of affairs. This working paper
analyzes the extent to which international human rights law and standards support
the GQUAL Campaign's call for States to pledge to achieve gender parity on
international courts and monitoring bodies.
Publication Date
October, 2017
Citation Information
Laurel E. Fletcher and International Human Rights Law Clinic, Berkeley Law. "Working Paper: Achieving Gender Parity on International Judicial and Monitoring Bodies: Analysis of International Human Rights Law and Standards Relevant to the GQUAL Campaign"
IHRLC Working Paper Series No. 4
(2017)
Available at: http://works.bepress.com/laurel_fletcher/132/