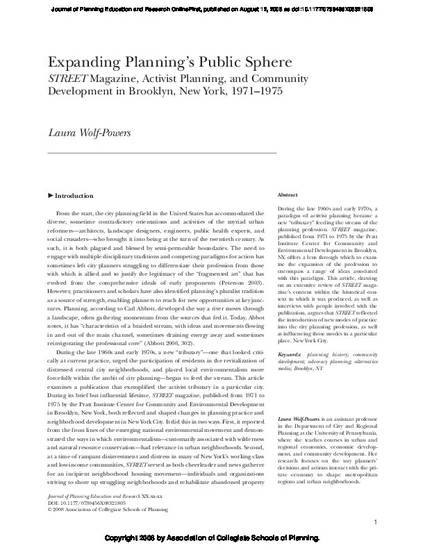 Article
Expanding Planning's Public Sphere: STREET Magazine, Activist Planning and Community Development in Brooklyn, NY 1971-75
Journal of Planning Education and Research (2008)
Abstract
During the late 1960s and early 1970s, a paradigm of activist planning or critical city planning became a new "tributary" feeding the stream of the planning profession. STREET Magazine, published from 1971 to 1975 by the Pratt Institute Center for Community and Environmental Development in Brooklyn, NY, offers a lens through which to examine the expansion of the profession to encompass a range of ideas associated with this paradigm. This article, drawing on an extensive review of STREET magazine's content within the historical context in which it was produced, as well as interviews with people involved with the publication, argues that STREET reflected the introduction of new modes of practice into the city planning profession, as well as influencing those modes in a particular place, New York City.
Keywords
planning history,
community development,
advocacy planning,
alternative media,
Brooklyn,
NY
Publication Date
December, 2008
Citation Information
Laura Wolf-Powers. "Expanding Planning's Public Sphere: STREET Magazine, Activist Planning and Community Development in Brooklyn, NY 1971-75"
Journal of Planning Education and Research
Vol. 28 Iss. 2 (2008)
Available at: http://works.bepress.com/laura_wolf_powers/9/