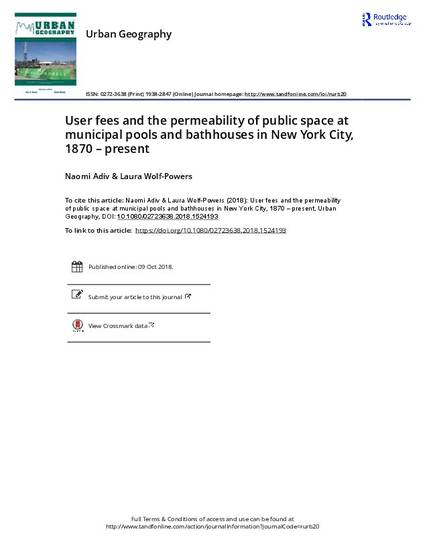 Article
User fees and the permeability of public space at municipal pools and bathhouses in New York City 1870 present.pdf
Urban Geography (2018)
Abstract
This paper examines fees for access to New York City's public
swimming and bathing spaces from 1870 to the present. We
argue that, beyond generating revenue and rationing space,
charges for admission to public bathing spaces have served to
condition how permeable those spaces were to various groups of
potential users. Municipal actors involved in administering baths
and pools have used fees to maintain and order these spaces; to
distinguish between deserving and undeserving users; and to
include and exclude participants in an ostensibly universal public.
Over time, fees have been naturalized, erasing these motivations
and giving cause to their outcomes. We problematize the fee in
order to address both theoretical questions about the nature of
public space and practical ones about how municipal administrators
govern amidst competing pressures to serve, develop and
regulate urban residents and their communities.
Keywords
public space,
publics,
swimming pools,
user fees
Publication Date
October, 2018
DOI
DOI: 10.1080/02723638.2018.1524193
Citation Information
Naomi Adiv and Laura Wolf-Powers. "User fees and the permeability of public space at municipal pools and bathhouses in New York City 1870 present.pdf"
Urban Geography
(2018)
Available at: http://works.bepress.com/laura_wolf_powers/45/
Creative Commons license
This work is licensed under a Creative Commons CC_BY International License.