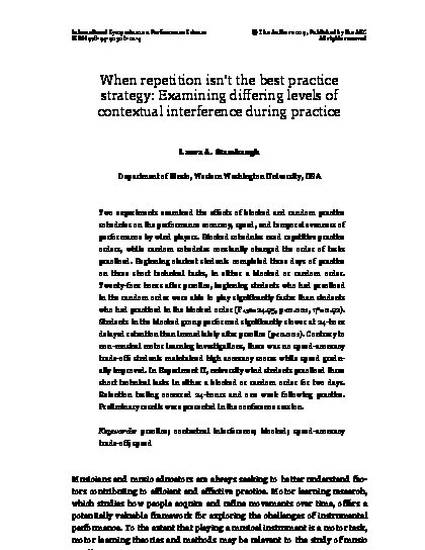 Contribution to Book
When Repetition Isn't the Best Practice Strategy: Examining Differing Levels of Contextual Interference during Practice
Proceedings of the International Symposium on Performance Science, Auckland, New Zealand (2009)
Abstract
Two experiments examined the effects of blocked and random practice schedules on the performance accuracy, speed, and temporal evenness of performance by wind players. Blocked schedules used repetitive practice orders, while random schedules constantly changed the order of tasks practiced. Beginning clarinet students completed three days of practice on three short technical tasks, in either a blocked or random order. Twenty-four hours after practice, beginning students who had practiced in the random order were able to play significantly faster than students who had practiced in the blocked order (F1,38=24.95, p<0.001, n2=0.92). Students in the blocked group performed significantly slower at 24-hour delayed retention than immediately after practice (p<0.001). Contrary to non-musical motor learning investigations, there was no speed-accuracy trade-off: students maintained high accuracy scores while speed gradually improved. In Experiment II, university wind students practiced three short technical tasks in either a blocked or random order for two days. Retention testing occurred 24-hours and one week following practice. Preliminary results were presented in the conference session.
Keywords
Practice,
Contextual Interference,
Blocked,
Speed-Accuracy Trade-off,
Speed
Editor
Aaron Williamon, Sharman Pretty, and Ralph Buck
Publisher
European Association of Conservatoires
Citation Information
Laura A. Stambaugh. "When Repetition Isn't the Best Practice Strategy: Examining Differing Levels of Contextual Interference during Practice"
Proceedings of the International Symposium on Performance Science, Auckland, New Zealand
. Ed. Aaron Williamon, Sharman Pretty, and Ralph Buck. Utrecht, The Netherlands: European Association of Conservatoires, 2009. source:http://www.legacyweb.rcm.ac.uk/cache/fl0020113.pdf
Available at: http://works.bepress.com/laura_stambaugh/6