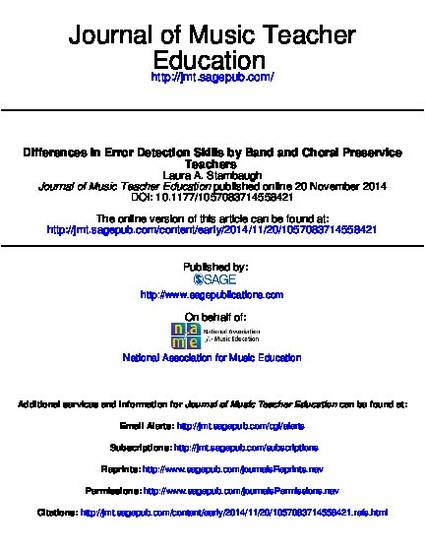 Article
Differences in error detection skills by band and choral preservice teachers
Journal of Music Teacher Education (2014)
Abstract
Band and choral preservice teachers (N = 44) studied band and choral scores, listened
to recordings of school ensembles, and identified errors in the recordings. Results
indicated that preservice teachers identified significantly more errors when listening
to recordings of their primary area (band majors listening to band, p = .045; choral
majors listening to chorus, p = .012). Furthermore, band majors identified rhythm
errors more frequently than pitch errors when listening to both types of ensembles,
while chorus majors listened predominantly for pitch errors. A significant correlation
existed between choral majors' ability to detect pitch errors in choral recordings
and their ability to detect pitch errors in band recordings (r = .556). Theory course
grades were not significantly correlated to error detection abilities, but aural skills
course grades were related to ability to identify pitch errors outside the primary area
(band majors, r = .441; choral majors, r = .611).
Keywords
error detection,
rehearsal,
score study,
conducting,
preservice teachers
DOI
10.1177/1057083714558421
Citation Information
Laura A. Stambaugh. "Differences in error detection skills by band and choral preservice teachers"
Journal of Music Teacher Education
(2014)
Available at: http://works.bepress.com/laura_stambaugh/35/