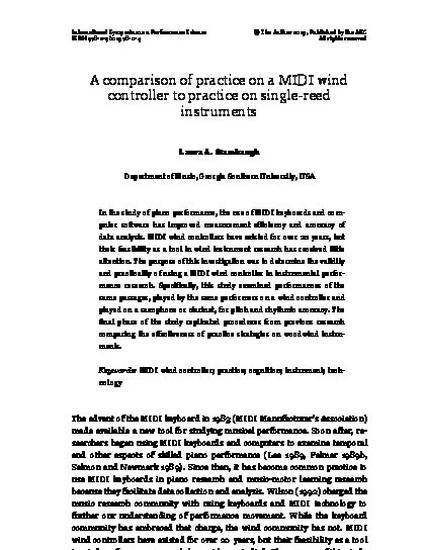 Presentation
A Comparison of Practice on a MIDI Wind Controller to Practice on Single-Reed Instruments
Proceedings of the International Symposium on Performance Science, Vienna, Austria
Document Type
Presentation
Publication Date
1-1-2013
Abstract
In the study of piano performance, the use of MIDI keyboards and computer software has improved measurement efficiency and accuracy of data analysis. MIDI wind controllers have existed for over 20 years, but their feasibility as a tool in wind instrument research has received little attention. The purpose of this investigation was to determine the validity and practicality of using a MIDI wind controller in instrumental performance research. Specifically, this study examined performances of the same passages, played by the same performers on a wind controller and played on a saxophone or clarinet, for pitch and rhythmic accuracy. The final phase of the study replicated procedures from previous research comparing the effectiveness of practice strategies on woodwind instruments.
Citation Information
Laura A. Stambaugh. "A Comparison of Practice on a MIDI Wind Controller to Practice on Single-Reed Instruments"
Proceedings of the International Symposium on Performance Science, Vienna, Austria
(2013)
Available at: http://works.bepress.com/laura_stambaugh/28/