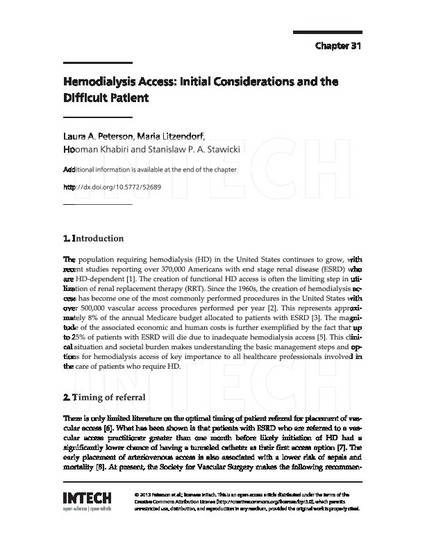 Contribution to Book
Hemodialysis Access: Initial Considerations and the Difficult Patient
Hemodialysis
Document Type
Book Chapter
Publication Date
2-27-2013
Abstract
The population requiring hemodialysis (HD) in the United States continues to grow, with recent studies reporting over 370,000 Americans with end stage renal disease (ESRD) who are HD-dependent. The creation of functional HD access is often the limiting step in utilization of renal replacement therapy (RRT). Since the 1960s, the creation of hemodialysis access has become one of the most commonly performed procedures in the United States with over 500,000 vascular access procedures performed per year. This represents approximately 8% of the annual Medicare budget allocated to patients with ESRD. The magnitude of the associated economic and human costs is further exemplified by the fact that up to 25% of patients with ESRD will die due to inadequate hemodialysis access. This clinical situation and societal burden makes understanding the basic management steps and options for hemodialysis access of key importance to all healthcare professionals involved in the care of patients who require HD.
Citation Information
Laura Peterson, Maria Litzendorf, Hooman Khabiri and Stanislaw P. Stawicki. "Hemodialysis Access: Initial Considerations and the Difficult Patient"
Hemodialysis
(2013) p. 635 - 661 ISSN: 9789535109884
Available at: http://works.bepress.com/laura_peterson/3/