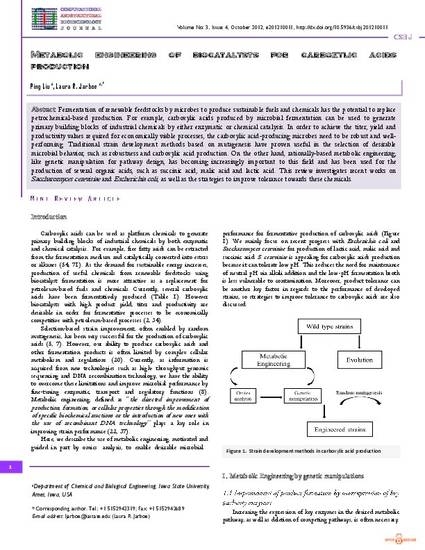 Article
Metabolic engineering of biocatalysts for carboxylic acids production
Computational and Structural Biotechnology Journal
Publication Date
10-1-2012
DOI
10.5936/csbj.201210011
Abstract
Fermentation of renewable feedstocks by microbes to produce sustainable fuels and chemicals has the potential to replace petrochemical-based production. For example, carboxylic acids produced by microbial fermentation can be used to generate primary building blocks of industrial chemicals by either enzymatic or chemical catalysis. In order to achieve the titer, yield and productivity values required for economically viable processes, the carboxylic acid-producing microbes need to be robust and wellperforming. Traditional strain development methods based on mutagenesis have proven useful in the selection of desirable microbial behavior, such as robustness and carboxylic acid production. On the other hand, rationally-based metabolic engineering, like genetic manipulation for pathway design, has becoming increasingly important to this field and has been used for the production of several organic acids, such as succinic acid, malic acid and lactic acid. This review investigates recent works on Saccharomyces cerevisiae and Escherichia coli , as well as the strategies to improve tolerance towards these chemicals.
Rights
© 2012 Liu and Jarboe. This is an open-access article distributed under the terms of the Creative Commons Attribution License, which permits unrestricted use, distribution, and reproduction in any medium, provided the original author and source are properly cited.
Copyright Owner
Liu and Jarboe
File Format
application/pdf
Citation Information
Ping Liu and Laura R. Jarboe. "Metabolic engineering of biocatalysts for carboxylic acids production"
Computational and Structural Biotechnology Journal
Vol. 3 Iss. 4 (2012) p. e201210011
Available at: http://works.bepress.com/laura_jarboe/18/