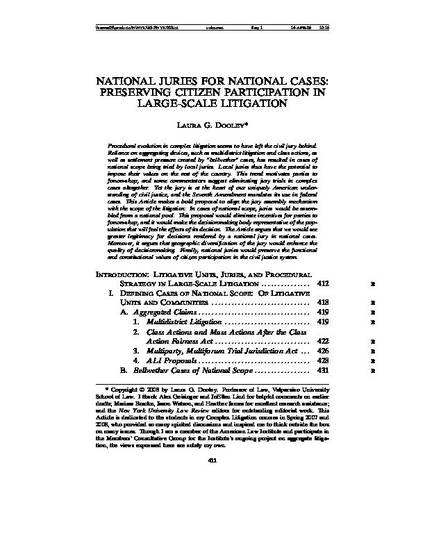 Article
National Juries for National Cases: Preserving Citizen Participation in Large-Scale Litigation
New York University Law Review (2008)
Abstract
Procedural evolution in complex litigation seems to have left the civil jury behind. Reliance on aggregating devices, such as multidistrict litigation and class actions, as well as settlement pressure created by "bellwether" cases, has resulted in cases of national scope being tried by local juries. Local juries thus have the potential to impose their values on the rest of the country. This trend motivates parties to forum-shop, and some commentators suggest eliminating jury trials in complex cases altogether. Yet the jury is at the heart of our uniquely American understanding of civil justice, and the Seventh Amendment mandates its use in federal cases. This Article makes a bold proposal to align the jury assembly mechanism with the scope of the litigation: In cases of national scope, juries would be assembled from a national pool. This proposal would eliminate incentives for parties to forum-shop, and it would make the decisionmaking body representative of the population that will feel the effects of its decision. The Article argues that we would see greater legitimacy for decisions rendered by a national jury in national cases. Moreover, it argues that geographic diversification of the jury would enhance the quality of decisionmaking. Finally, national juries would preserve the functional and constitutional values of citizen participation in the civil justice system.
Keywords
complex litigation,
civil juries,
national juries,
Seventh Amendment
Citation Information
Laura G. Dooley,
National Juries for National Cases: Preserving Citizen Participation in Large-Scale Litigation
, 83
N.Y.U. L. Rev.
411 (2008).