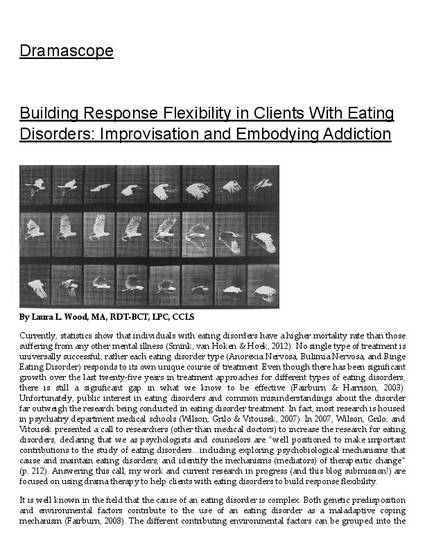 Article
Building Response Flexibilty in Cients with Eating Disorders: Improvisation and Embodying Addiction
The Drama Scope
Publication Date
2-11-2015
Abstract
Currently, statistics show that individuals with eating disorders have a higher mortality rate than those suffering from any other mental illness (Smink, van Hoken & Hoek, 2012). No single type of treatment is universally successful; rather each eating disorder type (Anorexia Nervosa, Bulimia Nervosa, and Binge Eating Disorder) responds to its own unique course of treatment. Even though there has been significant growth over the last twenty-five years in treatment approaches for different types of eating disorders, there is still a significant gap in what we know to be effective (Fairburn & Harrison, 2003). Unfortunately, public interest in eating disorders and common misunderstandings about the disorder far outweigh the research being conducted in eating disorder treatment. In fact, most research is housed in psychiatry department medical schools (Wilson, Grilo & Vitousek, 2007). In 2007, Wilson, Grilo, and Vitousek presented a call to researchers (other than medical doctors) to increase the research for eating disorders, declaring that we as psychologists and counselors are "well positioned to make important contributions to the study of eating disorders…including exploring psychobiological mechanisms that cause and maintain eating disorders, and identify the mechanisms (mediators) of therapeutic change" (p. 212). Answering this call, my work and current research in progress (and this blog submission!) are focused on using drama therapy to help clients with eating disorders to build response flexibility.
Citation Information
Laura L Wood. "Building Response Flexibilty in Cients with Eating Disorders: Improvisation and Embodying Addiction"
The Drama Scope
(2015)
Available at: http://works.bepress.com/laura-wood/3/