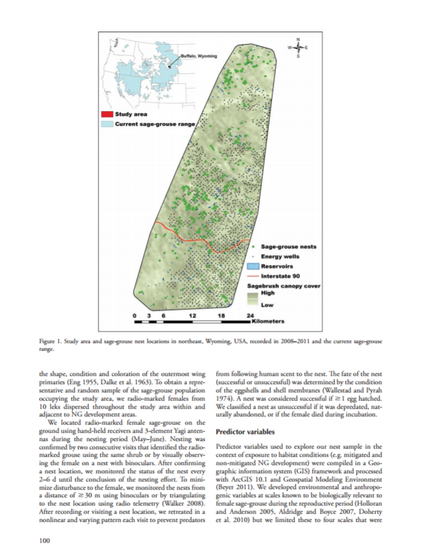 Article
Mitigation Effectiveness for Improving Nesting Success of Greater Sage-Grouse Influenced by Energy Development
Wildlife Biology
Publication Date
3-1-2015
DOI
http://dx.doi.org/10.2981/wlb.00002
Abstract
Sagebrush Artemisia spp. habitats being developed for oil and gas reserves are inhabited by sagebrush obligate species--including the greater sage-grouse Centrocercus urophasianus (sage-grouse) that is currently being considered for protection under the U.S. Endangered Species Act. Numerous studies suggest increasing oil and gas development may exacerbate species extinction risks. Therefore, there is a great need for effective on-site mitigation to reduce impacts to co-occurring wildlife such as sage-grouse. Nesting success is a primary factor in avian productivity and declines in nesting success are also thought to be an important contributor to population declines in sage-grouse. From 2008 to 2011 we monitored 296 nests of radio-marked female sage-grouse in a natural gas (NG) field in the Powder River Basin, Wyoming, USA, and compared nest survival in mitigated and non-mitigated development areas and relatively unaltered areas to determine if specific mitigation practices were enhancing nest survival. Nest survival was highest in relatively unaltered habitats followed by mitigated, and then non-mitigated NG areas. Reservoirs used for holding NG discharge water had the greatest support as having a direct relationship to nest survival. Within a 5-km2 area surrounding a nest, the probability of nest failure increased by about 15% for every 1.5 km increase in reservoir water edge. Reducing reservoirs was a mitigation focus and sage-grouse nesting in mitigated areas were exposed to almost half of the amount of water edge compared to those in non-mitigated areas. Further, we found that an increase in sagebrush cover was positively related to nest survival. Consequently, mitigation efforts focused on reducing reservoir construction and reducing surface disturbance, especially when the surface disturbance results in sagebrush removal, are important to enhancing sage-grouse nesting success.
Copyright Statement
This document was originally published by Nordic Board for Wildlife Research in Wildlife Biology. This work is provided under a Creative Commons Attribution 3.0 License. Details regarding the use of this work can be found at: http://creativecommons.org/licenses/by/3.0/. doi: 10.2981/wlb.00002
Citation Information
Christopher P. Kirol, Andrew L. Sutphin, Laura Bond, Mark R. Fuller, et al.. "Mitigation Effectiveness for Improving Nesting Success of Greater Sage-Grouse Influenced by Energy Development"
Wildlife Biology
(2015)
Available at: http://works.bepress.com/laura-bond/10/