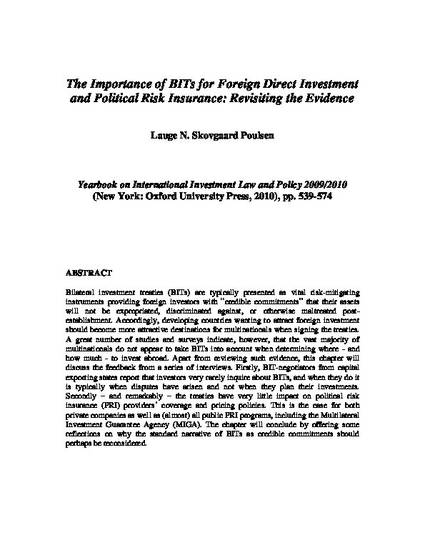 Unpublished Paper
The Importance of BITs for Foreign Direct Investment and Political Risk Insurance: Revisiting the Evidence
Yearbook on International Investment Law & Policy (Oxford University Press) (2010)
Abstract
Bilateral investment treaties (BITs) are typically presented as vital risk-mitigating instruments providing foreign investors with "credible commitments" that their assets will not be expropriated, discriminated against, or otherwise maltreated post-establishment. Accordingly, developing countries wanting to attract foreign investment should become more attractive destinations for multinationals when signing the treaties. A great number of studies and surveys indicate, however, that the vast majority of multinationals do not appear to take BITs into account when determining where - and how much - to invest abroad. Apart from reviewing such evidence, this paper discusses the feedback from a series of interviews. Firstly, BIT-negotiators from capital exporting states report that investors very rarely inquire about BITs, and when they do it is typically when disputes have arisen and not when they plan their investments. Secondly – and remarkably – the treaties have very little impact on political risk insurance (PRI) providers' coverage and pricing policies. This is the case for both private companies as well as (almost) all public PRI programs, including the Multilateral Investment Guarantee Agency (MIGA). The paper concludes by offering some reflections on why the standard narrative of BITs as credible commitments should perhaps be reconsidered.
Keywords
bilateral investment treaties,
foreign direct investment,
political risk insurance
Citation Information
Lauge Skovgaard Poulsen, 'The Importance of BITs for Foreign Direct Investment and Political Risk Insurance: Revisiting the Evidence,' in: K. Sauvant, ed., Yearbook on International Investment Law & Policy 2009/2010 (New York: Oxford University Press, 2010).