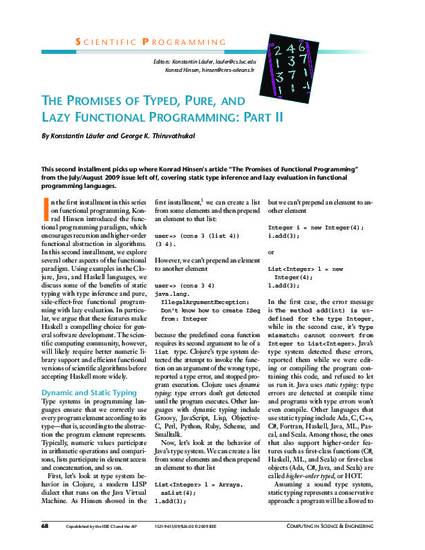 Article
Scientific Programming: The Promises of Typed, Pure, and Lazy Functional Programming: Part II
Computing in Science & Engineering
Publication Date
9-1-2009
Publisher Name
IEEE Computer Society
Abstract
This second installment picks up where Konrad Hinsen's article "The Promises of Functional Programming" from the July/August 2009 issue left off, covering static type inference and lazy evaluation in functional programming languages.
Creative Commons License
Creative Commons Attribution-Noncommercial-No Derivative Works 3.0
Copyright Statement
Copyright © 2009 Konstantin Läufer and George K. Thiruvathuka
Citation Information
Konstantin Läufer and George K. Thiruvathukal. "Scientific Programming: The Promises of Typed, Pure, and Lazy Functional Programming: Part II"
Computing in Science & Engineering
Vol. 11 Iss. 5 (2009)
Available at: http://works.bepress.com/laufer/5/