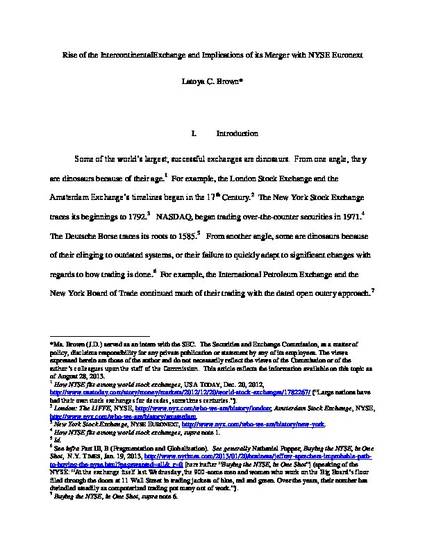 Article
Rise of the IntercontinentalExchange and Implications of its Merger with NYSE Euronext
U. Pitt. J.L. & Com. (2013)
Abstract
This paper examines the impending merger between the IntercontinentalExchange (ICE) and NYSE Euronext against the backdrop of the current structure of the global financial services industry. The paper concludes that the merger embodies what the financial services industry is becoming and captures the model that will allow exchanges to remain competitive in today's marketplace: mega-exchanges with broader asset classes and electronic platforms. As technology and globalization threaten their vitality, exchanges will need to continue reinventing and adapting. Increasingly over the last decade they have done so by merging and by moving, at least a part of, their operations on screen. ICE is a good model for other exchanges to follow. It has been able to establish itself as a market leader in a relatively short period of time - 13 years - and has done so by exploiting electronic trading. In arriving at its ultimate conclusion, the paper looks at ICE's beginnings and its impressive growth, and discusses the implications of the merger by examining how issues of globalization, demutualization, fragmentation, regulation, and antitrust factor in.
Keywords
merger,
antitrust,
electronic trading,
securities,
SEC,
securities and exchange commission,
CFTC,
exchange,
stock,
commodities,
financial services,
international trade,
international law,
fragmentation,
demutualization,
competition,
Sprecher,
NYSE,
stock exchange,
ICE,
global markets,
shareholder,
consolidation,
acquisition,
trading,
Dodd-Frank,
FSOC
Publication Date
Fall 2013
Citation Information
Latoya C. Brown. "Rise of the IntercontinentalExchange and Implications of its Merger with NYSE Euronext"
U. Pitt. J.L. & Com.
(2013)
Available at: http://works.bepress.com/latoya_brown/1/