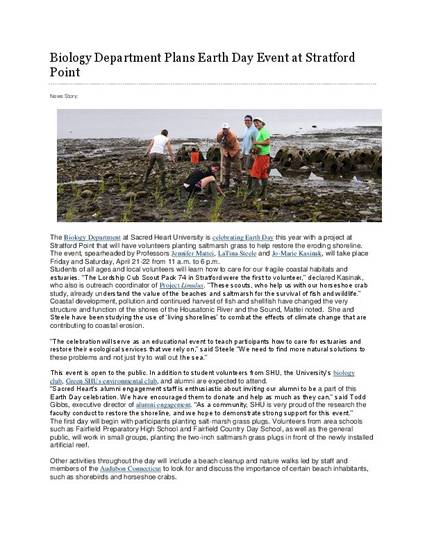 Popular Press
Biology Department Plans Earth Day Event at Stratford Point
Sacred Heart University News Story (2017)
Abstract
The Biology Department at Sacred Heart University is celebrating Earth Day 
celebrating Earth Day
 this year with a project at Stratford Point that will have volunteers planting saltmarsh grass to help restore the eroding shoreline. The event, spearheaded by Professors Jennifer Mattei, LaTina Steele, and Jo-Marie Kasinak, will take place Friday and Saturday, April 21-22 from 11 a.m. to 6 p.m.
Keywords
Saltmarsh,
Erosion,
Shoreline,
Students,
Volunteers,
Coastal Habitats,
Estuaries,
Green SHUs environmental club,
SHUs biology club,
Alumni engagement,
Audubon Connecticut,
Thunderbird Environmental Group,
Project Limulus,
SoundView Brewing Co,
The DuPont Company
Publication Date
March 7, 2017
Citation Information
Jennifer H Mattei, LaTina Steele and Jo-Marie Kasinak. "Biology Department Plans Earth Day Event at Stratford Point"
Sacred Heart University News Story
(2017)
Available at: http://works.bepress.com/latina_steele/9/