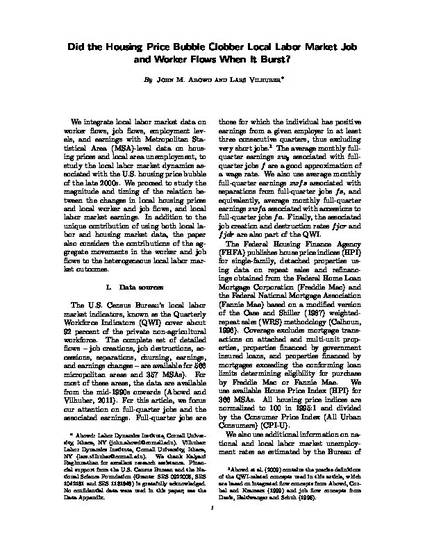 Presentation
Presentation: Did the Housing Price Bubble Clobber Local Labor Market Job and Worker Flows When It Burst?
Labor Dynamics Institute
Publication Date
1-1-2012
Abstract
We integrate local labor market data on worker flows, job flows, employment levels, and earnings with MSA-level data on housing prices and local area unemployment, to study the local labor market dynamics associated with the U.S. housing price bubble of the late 2000s. We proceed to study the magnitude and timing of the relation between the changes in local housing prices and local worker and job flows, and local labor market earnings.In addition to the unique contribution of using both local labor and housing market data, the paper also considers the contributions of the aggregate movements in the worker and job flows to the heterogeneous local labor market outcomes.
Citation Information
John M. Abowd and Lars Vilhuber. "Presentation: Did the Housing Price Bubble Clobber Local Labor Market Job and Worker Flows When It Burst?" (2012)
Available at: http://works.bepress.com/lars_vilhuber/12/