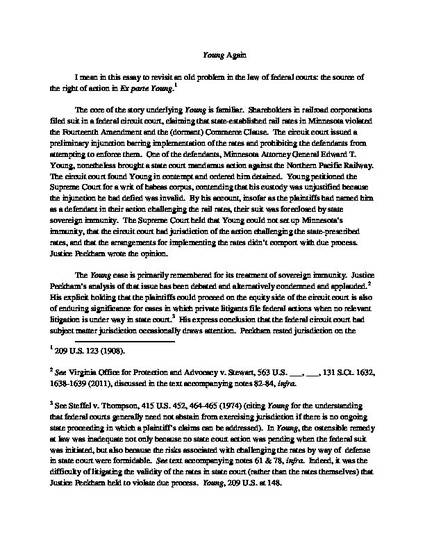 Unpublished Paper
Young Again
ExpressO (2012)
Abstract
This essay revisits an old problem in the law of federal courts: the source of the right of action in Ex parte Young. The Supreme Court's 1908 decision in Young is primarily remembered for its treatment of state sovereign immunity. Yet the plaintiffs' right of action (their entitlement to sue) presented an independent issue that has long been debated in academic circles. That question is again on the agenda inasmuch as Young figures in the current controversy about whether private litigants may routinely press preemption claims in federal court without explicit authorization from Congress. Proponents contend that preemption suits are warranted by the Supremacy Clause and cite Young in support of their position. Opponents argue that preemption suits must generally be approved by Congress and that Young is, at most, a precedent for a nonconstitutional, judicially created, right of action when plaintiffs sue for injunctions against imminent enforcement proceedings in state court.
This essay contends that both sides are wrong. Properly understood in historical context, the right of action in Young was a creature of federal equity jurisprudence and general law applied in the federal courts at the time, which permitted shareholders to sue their own companies, as well as parties with whom their companies had dealings, seeking injunctive relief protecting the shareholders' interests. This account doesn't foreclose the argument that Young has since been absorbed by a tradition of preemption actions on the strength of the supremacy principle alone. It does resist the competing position that Young supplies a rationale for limiting preemption suits without congressional authorization to plaintiffs pursuing anti-suit injunctions.
If Young were read in this second way, the chief beneficiaries would be corporations hoping to thwart social welfare legislation in progressive states. It's a familiar irony that in our time Young is celebrated as an essential ingredient of arrangements by which personal civil rights and civil liberties may be vindicated, but that, in its own day, Young was an instrument used to forestall regulation that threatened corporate profits. It would be irony upon irony if Young were now read as a precedent privileging suits by corporations attempting to frustrate social welfare policy and thus were once again to become a tool of business rather than a feature of public interest litigation.
Keywords
Ex parte Young,
Equity,
Injunctions,
Jurisdiction,
Sovereign Immunity,
Right of Action
Publication Date
August 8, 2012
Citation Information
Larry Yackle. "Young Again"
ExpressO
(2012)
Available at: http://works.bepress.com/larry_yackle/1/