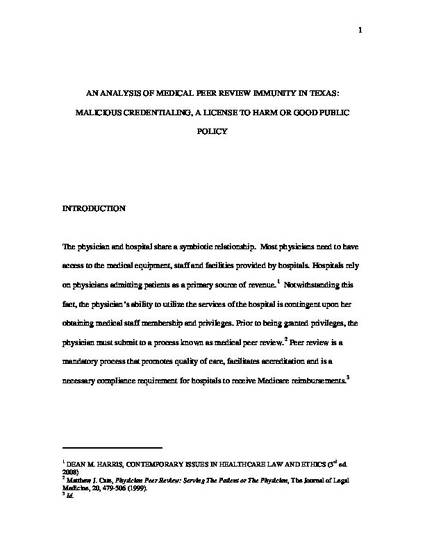 Unpublished Paper
AN ANALYSIS OF MEDICAL PEER REVIEW IMMUNITY IN TEXAS:
ExpressO (2008)
Abstract
ABSTRACT The physician and hospital share a symbiotic relationship. Most physicians need to have access to the medical equipment, staff and facilities provided by hospitals. Hospitals rely on physicians admitting patients as a primary source of revenue. Notwithstanding this fact, the physician's ability to utilize the services of the hospital is contingent upon her obtaining medical staff membership and privileges. Prior to being granted privileges, the physician must submit to a process known as medical peer review. Peer review is a mandatory process that promotes quality of care, facilitates accreditation and is a necessary compliance requirement for hospitals to receive Medicare reimbursements. Although the primary focus of peer review is to ensure quality of care, in some instances its application has had the opposite effect. Unfortunately, some states such as Texas appear to have gone overboard in their immunity provisions to the extent that the protection afforded medical peer review is thwarting the primary objective of the Health Care Quality Improvement Act, which was and remains the enhancement of quality of care. This article examines medical peer review immunity in Texas in light of the recent legislative review. Specifically, it reviews the impetus for providing immunity in medical peer review. Secondly, it demonstrates how the peer review process has failed the healthcare consumer. Finally, this article offers a discussion of an alternative approach that the authors believe will protect the peer review process while not adversely impacting quality of care.
Keywords
peer review,
immunity,
negligence credentialing,
malicious credentialing,
licensing
Publication Date
July 29, 2008
Citation Information
Lamar Odom and John A. Daniels. "AN ANALYSIS OF MEDICAL PEER REVIEW IMMUNITY IN TEXAS:"
ExpressO
(2008)
Available at: http://works.bepress.com/lamar_odom/1/