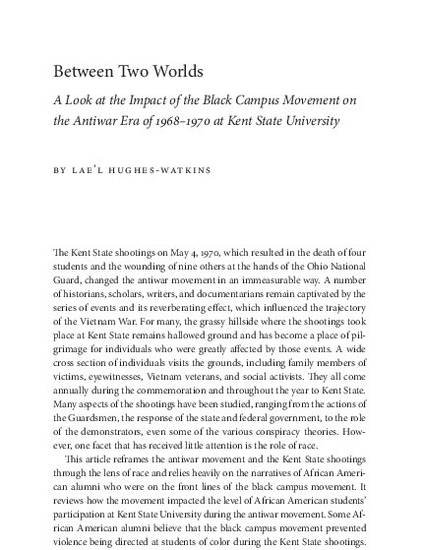 Article
Between Two Worlds A Look at the Impact of the Black Campus Movement on the Antiwar Era of 1968–1970 at Kent State University
Ohio History Journal (2017)
Abstract
The Kent State shootings on May 4, 1970, which resulted in the death of four
students and the wounding of nine others at the hands of the Ohio National
Guard, changed the antiwar movement in an immeasurable way. A number
of historians, scholars, writers, and documentarians remain captivated by the
series of events and its reverberating effect, which influenced the trajectory
of the Vietnam War. For many, the grassy hillside where the shootings took
place at Kent State remains hallowed ground and has become a place of pilgrimage for individuals who were greatly affected by those events. A wide
cross section of individuals visits the grounds, including family members of
victims, eyewitnesses, Vietnam veterans, and social activists. They all come
annually during the commemoration and throughout the year to Kent State.
Many aspects of the shootings have been studied, ranging from the actions of
the Guardsmen, the response of the state and federal government, to the role
of the demonstrators, even some of the various conspiracy theories. How-
ever, one facet that has received little attention is the role of race.
Thi
s article reframes the antiwar movement and the Kent State shootings
through the lens of race and relies heavily on the narratives of African Ameri-
can alumni who were on the front lines of the black campus movement. It
reviews how the movement impacted the level of African American students'
participation at Kent State University during the antiwar movement. Some Af-
rican American alumni believe that the black campus movement prevented
violence being directed at students of color during the Kent State shootings.
Keywords
Kent State Shootings,
May 4,
1970,
student dissent,
student activism,
acquisitions,
black campus movement,
Black United Students,
National Guard,
Black Power Movement,
Civil Rights Movement,
antiwar
Publication Date
Spring 2017
DOI
doi:10.1353/ohh.2017.0004
Citation Information
Hughes-Watkins, L. (2017). Between Two Worlds: A Look at the Impact of the Black Campus Movement on the Antiwar Era of 1968–1970 at Kent State University. Ohio History 124(1), 41-64. The Kent State University Press.
Creative Commons license
This work is licensed under a Creative Commons CC_BY International License.