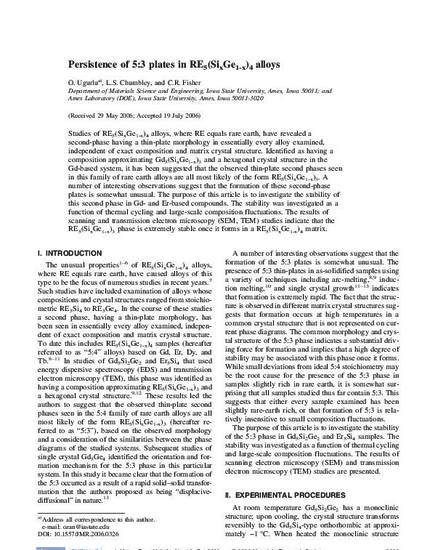 Article
Persistence of 5:3 plates in RE5(SixGe1-x)4 alloys
Journal of Materials Research
Publication Date
10-1-2006
DOI
10.1557/jmr.2006.0326
Abstract
Studies of RE5(SixGe1-x)4 alloys, where RE equals rare earth, have revealed a second-phase having a thin-plate morphology in essentially every alloy examined, independent of exact composition and matrix crystal structure. Identified as having a composition approximating Gd5(SixGe1-x)3 and a hexagonal crystal structure in the Gd-based system, it has been suggested that the observed thin-plate second phases seen in this family of rare earth alloys are all most likely of the form RE5(SixGe1-x)3. A number of interesting observations suggest that the formation of these second-phase plates is somewhat unusual. The purpose of this article is to investigate the stability of this second phase in Gd- and Er-based compounds. The stability was investigated as a function of thermal cycling and large-scale composition fluctuations. The results of scanning and transmission electron microscopy (SEM, TEM) studies indicate that the RE5(SixGe1-x)3 phase is extremely stable once it forms in a RE5(SixGe1-x)4 matrix.
Copyright Owner
Materials Research Society
File Format
application/pdf
Citation Information
O. Ugurlu, L. Scott Chumbley and C. R. Fisher. "Persistence of 5:3 plates in RE5(SixGe1-x)4 alloys"
Journal of Materials Research
Vol. 21 Iss. 10 (2006) p. 2669 - 2674
Available at: http://works.bepress.com/l_chumbley/15/