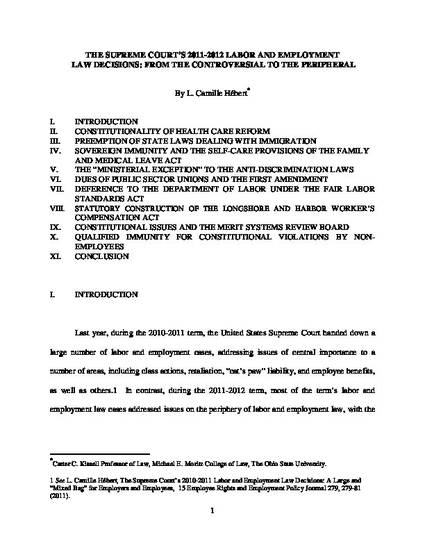 Article
The Supreme Court's 2011-2012 Labor and Employment Law Decisions: From the Controversial to the Peripheral
Employee Rights and Employment Policy Journal (2012)
Abstract
During its 2010-2011 term, the United States Supreme Court handed down a large number of labor and employment cases, addressing issues of central importance to a number of areas. In contrast, most of the 2011-2012 term's labor and employment law cases addressed issues on the periphery of labor and employment law, with the exception of two cases, one of which prompted a record-breaking oral argument schedule and both of which prompted protests at the Supreme Court building. Those exceptions, of course, were the case addressing the constitutionality of the Patient Protection and Affordable Care Act and the case considering the validity of Arizona's immigration statute. In other cases, the Court addressed important issues, but issues generally below the public radar, including issues of sovereign immunity under the Family and Medical Leave Act self-care provisions, the ministerial exemption under the anti-discrimination laws, and the First Amendment limitations on the ability of public sector unions to collect dues from non-members to be used for political purposes. Other cases addressed much more mundane issues, such as the definition of "outside salesmen" in the exemption to the Fair Labor Standards Act, the meaning to be given to certain terms in the Longshore and Harbor Worker's Compensation Act, the role of the Merit Systems Protection Board when constitutional challenges to employment decisions are made by federal employees, and whether private attorneys retained by public bodies to conduct investigations are entitled to qualified immunity against violations of employees' constitutional rights. Some of the labor and employment law cases decided by the Court this term demonstrate the views of a highly divided Court, with the "usual suspects" aligned in familiar patterns. Some of the decisions were unanimous, or nearly so. On the other hand, some of the cases reflect members of the Court aligning themselves in unfamiliar ways. Perhaps most surprisingly, or at least subject to the most speculation as to its reasons, was the Court's decision on the Patient Protection and Affordable Care Act, in which Chief Justice Roberts joined the Court's four "liberal" justices to uphold the individual mandate under Congress' taxing power. This alignment of justices fueled speculation in the popular press that Roberts had "defected" from his conservative brethren and bowed to political pressure. Also somewhat surprising was the alignment of both Justice Kennedy and Chief Justice Roberts with the four "liberal" justices in the case addressing Arizona's immigration statute. What was not unfamiliar, however, was the fact that the decisions in most of those cases overwhelming favored employers and disfavored employees and unions. However, there were exceptions even to this general trend among the cases decided by the Court. The Court's decision on the Patient Protection and Affordable Care Act is perhaps the hardest decision to categorize with respect to whom it favored.
Publication Date
August, 2012
Citation Information
L. Camille Hebert. "The Supreme Court's 2011-2012 Labor and Employment Law Decisions: From the Controversial to the Peripheral"
Employee Rights and Employment Policy Journal
Vol. 16 Iss. 2 (2012)
Available at: http://works.bepress.com/l_camille_hebert/5/