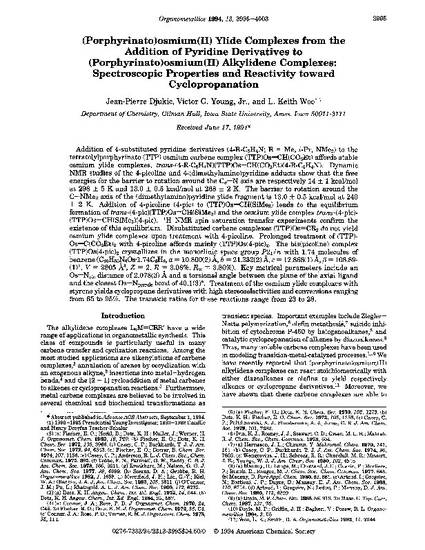 Article
(Porphyrinato)osmium(ll) Ylide Complexes from the Addition of Pyridine Derivatives to (Porphyrinato)osmium(ll) Alkylidene Complexes: Spectroscopic Properties and Reactivity toward Cyclopropanation
Organometallics
Publication Version
Published Version
Publication Date
10-1-1994
Abstract
Addition of 4-substituted pyridine derivatives (4-R-C5H4N; R = Me, i-Pr, NMe2) to the tetratolylporphyrinato (TTP) osmium carbene complex ('ITP)Os=CH(C02Et) affords stable osmium ylide complexes, trans-(4-R-C5H4N)(TTP)Os-CH(C02Et)(4-R-C5H~). Dynamic NMR studies of the 4-picoline and 4-(dimethylamino)pyridine adducts show that the free energies for the barrier to rotation around the Ca-N axis are respectively 14 ± 1 kcal/mol at 298 ± 5 K and 13.0 ± 0.5 kcal/mol at 268 ± 2 K. The barrier to rotation around the C-NMe2 axis of the (dimethylamino)pyridine ylide fragment is 13.0 ± 0.5 kcallmol at 240 ± 2 K. Addition of 4-picoline (4-pic) to (TTP)Os=CH(SiMe3) leads to the equilibrium formation of trans-(4-pic)(TTP)Os=CH(SiMe3) and the osmium ylide complex trans-(4-pic)( TTP)Os-CH(SiMea)(4-pic). 1H NMR spin saturation transfer experiments confirm the existence of this equilibrium. Disubstituted carbene complexes (TTP)Os=CR2 do not yield osmium ylide complexes upon treatment with 4-picoline. Prolonged treatment of (TTP)Os= C(C02Eth with 4-picoline affords mainly (TTP)Os(4-pich. The bis(picoline) complex (TTP)Os(4-pich crystallizes in the monoclinic space group P2dn with 1.74 molecules of benzene (CsoH5oNs0s·1.74CsHs, a= 10.800(2) A, b = 21.332(2) A, c = 12.868(1) A, f3 = 108.89- (1)0, V = 2805 A3, Z = 2, R = 3.08%, Rw = 3.80%). Key metrical parameters include an Os-Npic distance of 2.078(3) A and a torsional angle between the plane of the axial ligand and the closest Os-Npyrrole bond of 40.1(3)0. Treatment of the osmium ylide complexes with styrene yields cyclopropane derivatives with high stereoselectivities and conversions ranging from 65 to 95%. The trans/cis ratios for these reactions range from 23 to 28.
Copyright Owner
American Chemical Society
File Format
application/pdf
Citation Information
Jean-Pierre Djukic, Victor G. Young and L. Keith Woo. "(Porphyrinato)osmium(ll) Ylide Complexes from the Addition of Pyridine Derivatives to (Porphyrinato)osmium(ll) Alkylidene Complexes: Spectroscopic Properties and Reactivity toward Cyclopropanation"
Organometallics
Vol. 13 Iss. 10 (1994) p. 3995 - 4003
Available at: http://works.bepress.com/l-woo/9/