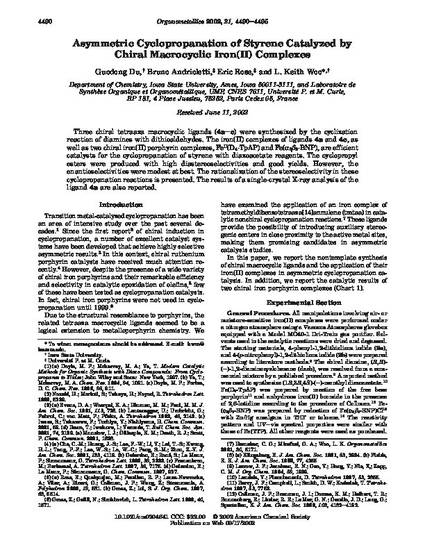 Article
Asymmetric Cyclopropanation of Styrene Catalyzed by Chiral Macrocyclic Iron(II) Complexes
Organometallics
Publication Version
Published Version
Publication Date
9-1-2002
Abstract
Three chiral tetraaza macrocyclic ligands (4a−c) were synthesized by the cyclization reaction of diamines with dithioaldehydes. The iron(II) complexes of ligands 4a and 4c, as well as two chiral iron(II) porphyrin complexes, FeII(D4-TpAP) and Fe(α2β2-BNP), are efficient catalysts for the cyclopropanation of styrene with diazoacetate reagents. The cyclopropyl esters were produced with high diastereoselectivities and good yields. However, the enantioselectivities were modest at best. The rationalization of the stereoselectivity in these cyclopropanation reactions is presented. The results of a single-crystal X-ray analysis of the ligand 4a are also reported.
Copyright Owner
American Chemical Society
File Format
application/pdf
Citation Information
Guodong Du, Bruno Andrioletti, Eric Rose and L. Keith Woo. "Asymmetric Cyclopropanation of Styrene Catalyzed by Chiral Macrocyclic Iron(II) Complexes"
Organometallics
Vol. 21 Iss. 21 (2002) p. 4490 - 4495
Available at: http://works.bepress.com/l-woo/8/