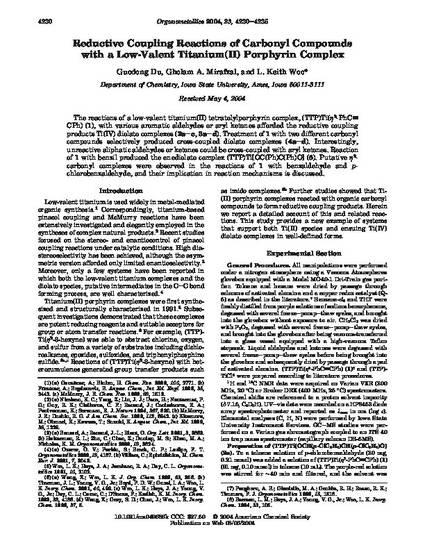 Article
Reductive Coupling Reactions of Carbonyl Compounds with a Low-Valent Titanium(II) Porphyrin Complex
Organometallics
Publication Version
Published Version
Publication Date
8-1-2004
Abstract
The reactions of a low-valent titanium(II) tetratolylporphyrin complex, (TTP)Ti(η2-PhC⋮CPh) (1), with various aromatic aldehydes or aryl ketones afforded the reductive coupling products Ti(IV) diolato complexes (2a−c, 3a−d). Treatment of 1 with two different carbonyl compounds selectively produced cross-coupled diolato complexes (4a−d). Interestingly, unreactive aliphatic aldehydes or ketones could be cross-coupled with aryl ketones. Reaction of 1 with benzil produced the enediolato complex (TTP)Ti[OC(Ph)C(Ph)O] (5). Putative η2-carbonyl complexes were observed in the reactions of 1 with benzaldehyde and p-chlorobenzaldehyde, and their implication in reaction mechanisms is discussed.
Copyright Owner
American Chemical Society
File Format
application/pdf
Citation Information
Guodong Du, Gholam A. Mirafzal and L. Keith Woo. "Reductive Coupling Reactions of Carbonyl Compounds with a Low-Valent Titanium(II) Porphyrin Complex"
Organometallics
Vol. 23 Iss. 18 (2004) p. 4230 - 4235
Available at: http://works.bepress.com/l-woo/48/