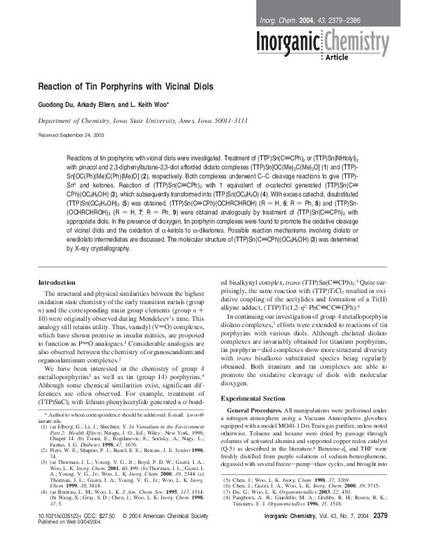 Article
Reaction of Tin Porphyrins with Vicinal Diols
Inorganic Chemistry
Publication Version
Published Version
Publication Date
3-1-2004
Abstract
Reactions of tin porphyrins with vicinal diols were investigated. Treatment of (TTP)Sn(C⋮CPh)2or (TTP)Sn(NHtolyl)2 with pinacol and 2,3-diphenylbutane-2,3-diol afforded diolato complexes (TTP)Sn[OC(Me)2C(Me)2O] (1) and (TTP)Sn[OC(Ph)(Me)C(Ph)(Me)O] (2), respectively. Both complexes underwent C−C cleavage reactions to give (TTP)SnII and ketones. Reaction of (TTP)Sn(C⋮CPh)2 with 1 equivalent of o-catechol generated (TTP)Sn(C⋮CPh)(OC6H4OH) (3), which subsequently transformed into (TTP)Sn(OC6H4O) (4). With excess catechol, disubstituted (TTP)Sn(OC6H4OH)2 (5) was obtained. (TTP)Sn(C⋮CPh)(OCHRCHROH) (R = H, 6; R = Ph, 8) and (TTP)Sn(OCHRCHROH)2 (R = H, 7; R = Ph, 9) were obtained analogously by treatment of (TTP)Sn(C⋮CPh)2 with appropriate diols. In the presence of dioxygen, tin porphyrin complexes were found to promote the oxidative cleavage of vicinal diols and the oxidation of α-ketols to α-diketones. Possible reaction mechanisms involving diolato or enediolato intermediates are discussed. The molecular structure of (TTP)Sn(C⋮CPh)(OC6H4OH) (3) was determined by X-ray crystallography.
Copyright Owner
American Chemical Society
File Format
application/pdf
Citation Information
Guodong Du, Arkady Ellern and L. Keith Woo. "Reaction of Tin Porphyrins with Vicinal Diols"
Inorganic Chemistry
Vol. 43 Iss. 7 (2004) p. 2379 - 2386
Available at: http://works.bepress.com/l-woo/45/