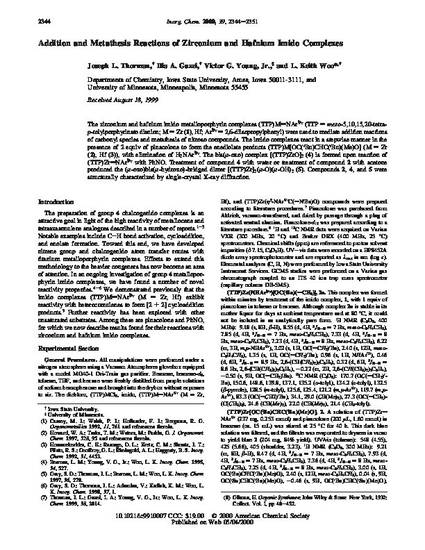 Article
Addition and Metathesis Reactions of Zirconium and Hafnium Imido Complexes
Inorganic Chemistry
Publication Version
Published Version
Publication Date
5-1-2000
Abstract
The zirconium and hafnium imido metalloporphyrin complexes (TTP)MNAriPr (TTP = meso-5,10,15,20-tetra-p-tolylporphyrinato dianion; M = Zr (1), Hf; AriPr = 2,6-diisopropylphenyl) were used to mediate addition reactions of carbonyl species and metathesis of nitroso compounds. The imido complexes react in a stepwise manner in the presence of 2 equiv of pinacolone to form the enediolate products (TTP)M[OC(tBu)CHC(tBu)(Me)O] (M = Zr (2), Hf (3)), with elimination of H2NAriPr. The bis(μ-oxo) complex [(TTP)ZrO]2 (4) is formed upon reaction of (TTP)ZrNAriPr with PhNO. Treatment of compound 4 with water or treatment of compound 2 with acetone produced the (μ-oxo)bis(μ-hydroxo)-bridged dimer [(TTP)Zr]2(μ-O)(μ-OH)2 (5). Compounds 2, 4, and 5 were structurally characterized by single-crystal X-ray diffraction.
Copyright Owner
American Chemical Society
File Format
application/pdf
Citation Information
Joseph Lyndon Thorman, Ilia A. Guzei, Victor G. Young and L. Keith Woo. "Addition and Metathesis Reactions of Zirconium and Hafnium Imido Complexes"
Inorganic Chemistry
Vol. 39 Iss. 11 (2000) p. 2344 - 2351
Available at: http://works.bepress.com/l-woo/4/