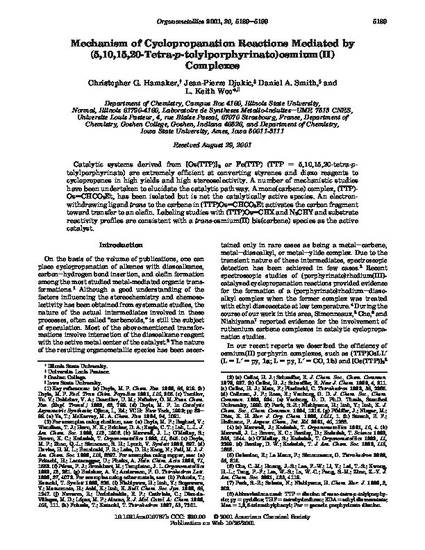 Article
Mechanism of Cyclopropanation Reactions Mediated by (5,10,15,20-Tetra-p-tolylporphyrinato)osmium(II) Complexes
Organometallics
Publication Version
Published Version
Publication Date
10-1-2001
Abstract
Catalytic systems derived from [Os(TTP)]2 or Fe(TTP) (TTP = 5,10,15,20-tetra-p-tolylporphyrinato) are extremely efficient at converting styrenes and diazo reagents to cyclopropanes in high yields and high stereoselectivity. A number of mechanistic studies have been undertaken to elucidate the catalytic pathway. A mono(carbene) complex, (TTP)OsCHCO2Et, has been isolated but is not the catalytically active species. An electron-withdrawing ligand trans to the carbene in (TTP)OsCHCO2Et activates the carbon fragment toward transfer to an olefin. Labeling studies with (TTP)OsCHX and N2CHY and substrate reactivity profiles are consistent with a trans-osmium(II) bis(carbene) species as the active catalyst.
Copyright Owner
American Chemical Society
File Format
application/pdf
Citation Information
Christopher G. Hamaker, Jean-Pierre Djukic, Daniel A. Smith and L. Keith Woo. "Mechanism of Cyclopropanation Reactions Mediated by (5,10,15,20-Tetra-p-tolylporphyrinato)osmium(II) Complexes"
Organometallics
Vol. 20 Iss. 24 (2001) p. 5189 - 5199
Available at: http://works.bepress.com/l-woo/34/