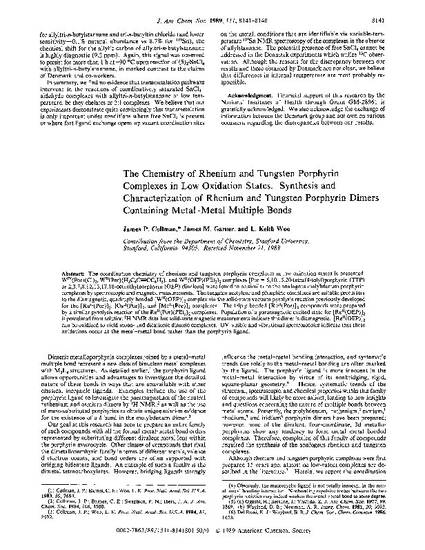 Article
The Chemistry of Rhenium and Tungsten Porphyrin Complexes in Low Oxidation States. Synthesis and Characterization of Rhenium and Tungsten Porphyrin Dimers Containing Metal-Metal Multiple Bonds
Journal of the American Chemical Society (1989)
Abstract
The coordination chemistry of rhenium and tungsten porphyrin complexes in low oxidation states is presented. W IV(Por)(Cl) 2, W II(Por)(H 5C 6X-CC 6H 5), and W II(OEP)(PEt 3) 2 complexes [Por = 5,10,15,20-tetra(4-tolyl)porphyrin (TTP) or 2,3,7,8,12,13,17,18-octaethylporphyrin (OEP) dianions] were found to be similar to the analogous molybdenum porphyrin complexes by spectroscopic and magnetic measurements. The tungsten acetylene and phosphine complexes are suitable precursors to the diamagnetic, quadruply bonded [W II(OEP)] 2 complex via the solid-state vacuum pyrolysis reaction previously developed for the [Ru II(Por)] 2, [Os II(Por)] 2, and [Mo II(Por)] 2 complexes. The triply bonded [Re II(Por)] 2 compounds were prepared by a similar pyrolysis reaction of the Re II(Por)(PEt 3) 2 complexes. Population of a paramagnetic excited state for [Re II(OEP)] 2 is postulated from solution 1H NMR data but solid-state magnetic measurements indicate this dimer is diamagnetic. [Re II(OEP)] 2 can be oxidized to yield mono- and dicationic dimeric complexes. UV-visible and vibrational spectroscopies indicate that these oxidations occur at the metal-metal bond rather than the porphyrin ligand. 
Publication Date
October, 1989
Citation Information
James P. Collman, L. Keith Woo and James M. Garner. "The Chemistry of Rhenium and Tungsten Porphyrin Complexes in Low Oxidation States. Synthesis and Characterization of Rhenium and Tungsten Porphyrin Dimers Containing Metal-Metal Multiple Bonds"
Journal of the American Chemical Society
Vol. 111 Iss. 21 (1989) p. 8141 - 8148
Available at: http://works.bepress.com/l-woo/3/