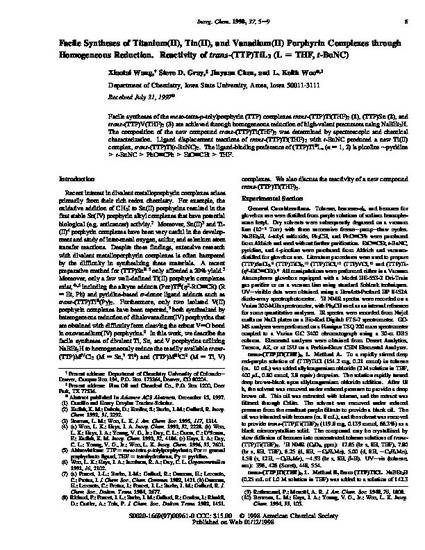 Article
Facile Syntheses of Titanium(II), Tin(II), and Vanadium(II) Porphyrin Complexes through Homogeneous Reduction. Reactivity of trans-(TTP)TiL2 (L = THF, t-BuNC)
Inorganic Chemistry
Publication Version
Published Version
Publication Date
1-1-1998
Abstract
Facile syntheses of the meso-tetra-p-tolylporphyrin (TTP) complexes trans-(TTP)Ti(THF)2(1), (TTP)Sn (2), and trans-(TTP)V(THF)2 (3) are achieved through homogeneous reduction of high-valent precursors using NaBEt3H. The composition of the new compound trans-(TTP)Ti(THF)2 was determined by spectroscopic and chemical characterization. Ligand displacement reactions of trans-(TTP)Ti(THF)2 with t-BuNC produced a new Ti(II) complex,trans-(TTP)Ti(t-BuNC)2. The ligand-binding preference of (TTP)TiIILn (n = 1, 2) is picoline ∼pyridine > t-BuNC > PhC⋮CPh > EtC⋮CEt > THF.
Copyright Owner
American Chemical Society
File Format
application/pdf
Citation Information
Xiaotai Wang, Steven D. Gray, Jinyuan Chen and L. Keith Woo. "Facile Syntheses of Titanium(II), Tin(II), and Vanadium(II) Porphyrin Complexes through Homogeneous Reduction. Reactivity of trans-(TTP)TiL2 (L = THF, t-BuNC)"
Inorganic Chemistry
Vol. 37 Iss. 1 (1998) p. 5 - 9
Available at: http://works.bepress.com/l-woo/21/