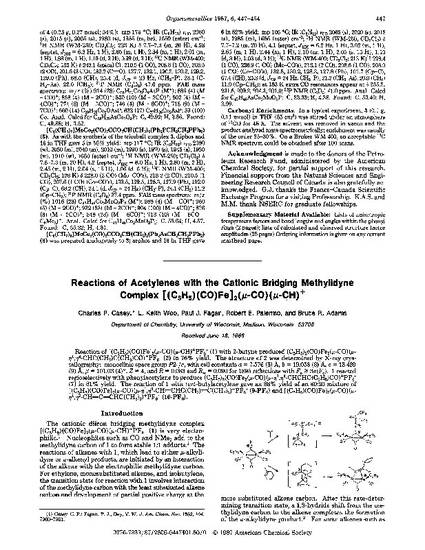 Article
Reactions of acetylenes with the cationic bridging methylidyne complex [(C5H5)(CO)Fe]2(.mu.-CO)(.mu.-CH)+
Organometallics (1987)
Abstract
The cationic diiron bridging methylidyne complex
[ (C5H5)(CO)FeI2(p-CO)(p-CH)'PF6(1-) is very electrophilic.'
Nucleophiles such as CO and NMe3 add to the
methylidyne carbon of 1 to form stable 1:l adducts.' The
reactions of alkenes with 1, which lead to either p-alkylidyne
or p-alkenyl products, are initiated by an interaction
of the alkene with the electrophilic methylidyne carbon.
For ethylene, monosubstituted alkenes, and isobutylene,
the transition state for reaction with 1 involves interaction
of the methylidyne carbon with the least substituted alkene
carbon and development of partial positive charge at the
more substituted alkene carbon.
Publication Date
March, 1987
Citation Information
Charles P. Casey, L. Keith Woo, Paul J. Fagan, Robert E. Palermo, et al.. "Reactions of acetylenes with the cationic bridging methylidyne complex [(C5H5)(CO)Fe]2(.mu.-CO)(.mu.-CH)+"
Organometallics
Vol. 6 Iss. 3 (1987) p. 447 - 454
Available at: http://works.bepress.com/l-woo/2/