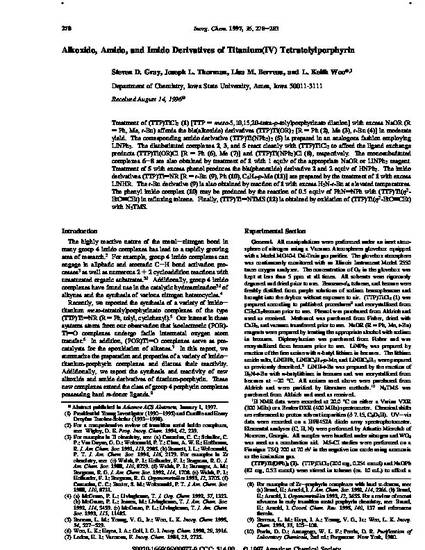 Article
Alkoxido, Amido, and Imido Derivatives of Titanium(IV) Tetratolylporphyrin
Inorganic Chemistry
Publication Version
Published Version
Publication Date
1-1-1997
Abstract
Treatment of (TTP)TiCl2 (1) [TTP = meso-5,10,15,20-tetra-p-tolylporphyrinato dianion] with excess NaOR (R = Ph, Me, t-Bu) affords the bis(alkoxide) derivatives (TTP)Ti(OR)2 [R = Ph (2), Me (3), t-Bu (4)] in moderate yield. The corresponding amido derivative (TTP)Ti(NPh2)2(5) is prepared in an analogous fashion employing LiNPh2. The disubstituted complexes 2, 3, and 5 react cleanly with (TTP)TiCl2 to afford the ligand exchange products (TTP)Ti(OR)Cl [R = Ph (6), Me (7)] and (TTP)Ti(NPh2)Cl (8), respectively. The monosubstituted complexes 6−8are also obtained by treatment of 1 with 1 equiv of the appropriate NaOR or LiNPh2 reagent. Treatment of 5 with excess phenol produces the bis(phenoxide) derivative 2 and 2 equiv of HNPh2. The imido derivatives (TTP)TiNR [R = t-Bu (9), Ph (10), C6H4-p-Me (11)] are prepared by the treatment of 1 with excess LiNHR. The t-Bu derivative (9) is also obtained by reaction of 1 with excess H2N-t-Bu at elevated temperatures. The phenyl imido complex (10) may be produced by the reaction of 0.5 equiv of PhNNPh with (TTP)Ti(η2-EtC⋮CEt) in refluxing toluene. Finally, (TTP)TiNTMS (12) is obtained by oxidation of (TTP)Ti(η2-EtC⋮CEt) with N3TMS.
Copyright Owner
American Chemical Society
File Format
application/pdf
Citation Information
Steven D. Gray, Joseph Lyndon Thorman, Lisa Mary Berreau and L. Keith Woo. "Alkoxido, Amido, and Imido Derivatives of Titanium(IV) Tetratolylporphyrin"
Inorganic Chemistry
Vol. 36 Iss. 3 (1997) p. 278 - 283
Available at: http://works.bepress.com/l-woo/19/