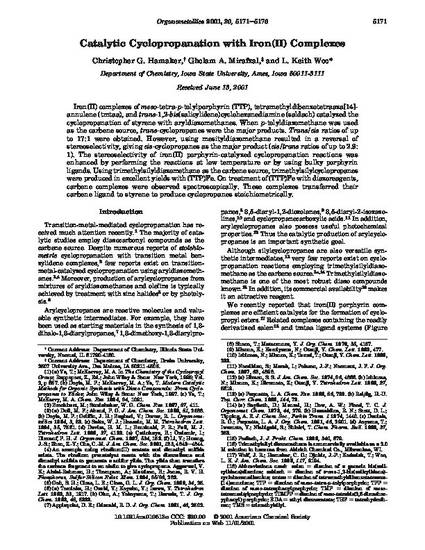 Article
Catalytic Cyclopropanation with Iron(II) Complexes
Organometallics
Publication Version
Published Version
Publication Date
11-1-2001
Abstract
Iron(II) complexes of meso-tetra-p-tolylporphyrin (TTP), tetramethyldibenzotetraaza[14]annulene (tmtaa), and trans-1,2-bis(salicylidene)cyclohexanediamine (saldach) catalyzed the cyclopropanation of styrene with aryldiazomethanes. When p-tolyldiazomethane was used as the carbene source, trans-cyclopropanes were the major products. Trans/cis ratios of up to 17:1 were obtained. However, using mesityldiazomethane resulted in a reversal of stereoselectivity, giving cis-cyclopropanes as the major product (cis/trans ratios of up to 2.9:1). The stereoselectivity of iron(II) porphyrin-catalyzed cyclopropanation reactions was enhanced by performing the reactions at low temperature or by using bulky porphyrin ligands. Using trimethylsilyldiazomethane as the carbene source, trimethylsilylcyclopropanes were produced in excellent yields with (TTP)Fe. On treatment of (TTP)Fe with diazoreagents, carbene complexes were observed spectroscopically. These complexes transferred their carbene ligand to styrene to produce cyclopropanes stoichiometrically.
Copyright Owner
American Chemical Society
File Format
application/pdf
Citation Information
Christopher G. Hamaker, Gholam A. Mirafzal and L. Keith Woo. "Catalytic Cyclopropanation with Iron(II) Complexes"
Organometallics
Vol. 20 Iss. 24 (2001) p. 5171 - 5176
Available at: http://works.bepress.com/l-woo/13/