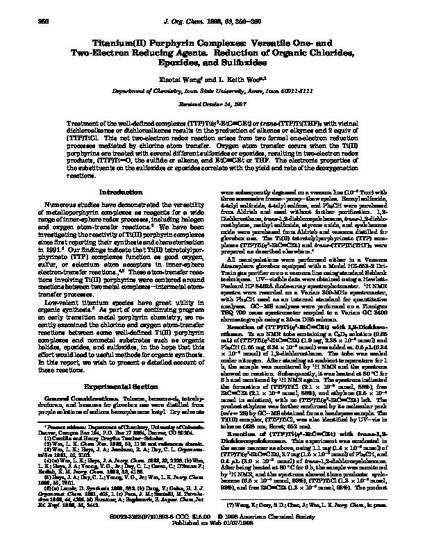 Article
Titanium(II) Porphyrin Complexes: Versatile One- and Two-Electron Reducing Agents. Reduction of Organic Chlorides, Epoxides, and Sulfoxides
Journal of Organic Chemistry
Publication Version
Published Version
Publication Date
1-1-1998
Abstract
Treatment of the well-defined complexes (TTP)Ti(η2-EtC⋮CEt) or trans-(TTP)Ti(THF)2 with vicinal dichloroalkanes or dichloroalkenes results in the production of alkenes or alkynes and 2 equiv of (TTP)TiCl. This net two-electron redox reaction arises from two formal one-electron reduction processes mediated by chlorine atom transfer. Oxygen atom transfer occurs when the Ti(II) porphyrins are treated with several different sulfoxides or epoxides, resulting in two-electron redox products, (TTP)TiO, the sulfide or alkene, and EtC⋮CEt or THF. The electronic properties of the substituents on the sulfoxides or epoxides correlate with the yield and rate of the deoxygenation reactions.
Copyright Owner
American Chemical Society
File Format
application/pdf
Citation Information
Xiaotai Wang and L. Keith Woo. "Titanium(II) Porphyrin Complexes: Versatile One- and Two-Electron Reducing Agents. Reduction of Organic Chlorides, Epoxides, and Sulfoxides"
Journal of Organic Chemistry
Vol. 63 Iss. 2 (1998) p. 356 - 360
Available at: http://works.bepress.com/l-woo/123/