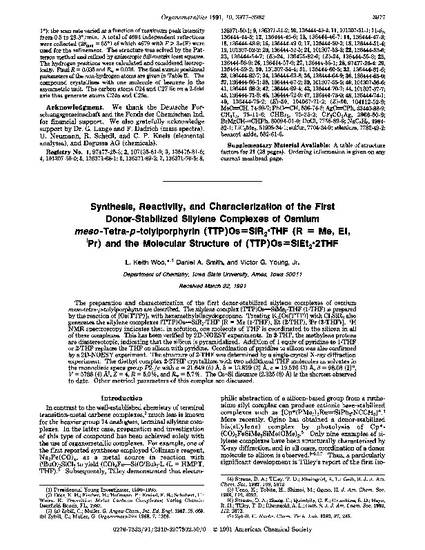 Article
Synthesis, Reactivity, and Characterization of the First Donor-Stabilized Silylene Complexes of Osmium meso-Tetra-p-tolylporphyrin (TTP)Os=SiR2•THF (R = Me, Et, 1Pr) and the Molecular Structure of (TTP)Os=SiEt2•2THF
Organometallics
Publication Version
Published Version
Publication Date
12-1-1991
Abstract
The preparation and characterization of the first donor-stabilized silylene complexes of osmium meso-tetra-p-tolylporphyrin are described. The silylene complex (TTP)Os=SiM~·THF (l·THF) is prepared by the reaction of [Os(TTP)b with hexamethylsilacyclopropane. Treating K2[0s(TTP)] with Cl2Si~ also generates the silylene complexes (TTP)Os=SiR2·THF [R =Me (l·THF), Et (2·THF), ipr (3·THF)]. 1H NMR spectroscopy indicates that, in solution, one molecule of THF is coordinated to the silicon in all of these complexes. This has been verified by 2D-NOESY experiments. In 2·THF, the methylene protons are diastereotopic, indicating that the silicon is pyramidalized. Addition of 1 equiv of pyridine to l·THF or 2·THF replaces the THF on silicon with pyridine. Coordination of pyridine to silicon was also confirmed by a 2D-NOESY experiment. The structure of 2·THF was determined by a single-crystal X-ray diffraction experiment. The diethyl complex 2·2THF crystallizes with two additional THF molecules as solvates in the monoclinic space group P2d c with a = 21.649 (5) A, b = 13.829 (3) A, c = 19.526 (3) A, 13 = 98.08 (2) 0 , V = 5788 (4) A3, Z = 4, R = 5.0%, and Rw = 5.7%. The Os-Si distance (2.325 (8) A) is the shortest observed to date. Other metrical parameters of this complex are discussed.
Copyright Owner
American Chemical Society
File Format
application/pdf
Citation Information
L. Keith Woo, Daniel A. Smith and Victor G. Young. "Synthesis, Reactivity, and Characterization of the First Donor-Stabilized Silylene Complexes of Osmium meso-Tetra-p-tolylporphyrin (TTP)Os=SiR2•THF (R = Me, Et, 1Pr) and the Molecular Structure of (TTP)Os=SiEt2•2THF"
Organometallics
Vol. 10 Iss. 12 (1991) p. 3977 - 3982
Available at: http://works.bepress.com/l-woo/121/