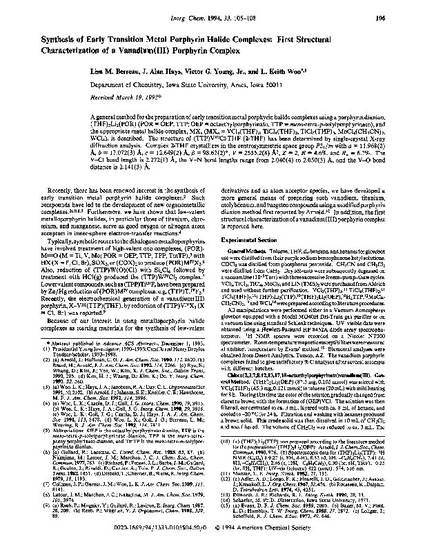 Article
Synthesis of Early Transition Metal Porphyrin Halide Complexes: First Structural Characterization of a Vanadium(III) Porphyrin Complex
Inorganic Chemistry
Publication Version
Published Version
Publication Date
1-1-1994
Abstract
A general method for the preparation of early transition metal porphyrin halide complexes using a porphyrin dianion, (THFhLh(POR) (POR = OEP, TIP; OEP = octaethylporphyrinato, TTP = meso-tetra-p-tolylporphyrinato), and the appropriate metal halide complex, MXn (MXn = VCh(THFh, TiCl4(THFh, TiC13(THFh, MoCl4(CH3CNh, WC14), is described. The structure of (TTP)VIIICl·THF (l·THF) has been determined by single-crystal X-ray diffraction analysis. Complex l·THF crystallizes in the centrosymmetric space group ndm with a= 11.968(2) A, b = 17 .072(3) A, c = 12.649(2) A, 13 = 98.62(2) 0 , V = 2555.2(8) A3, Z = 2, R = 4.6%, and Rw = 6. 7%. The V-Cl bond length is 2.272(1) A, the V-N bond lengths range from 2.040(4) to 2.050(3) A, and the V-0 bond distance is 2.141(3) A.
Copyright Owner
American Chemical Society
File Format
application/pdf
Citation Information
Lisa Mary Berreau, J. Alan Hays, Victor G. Young and L. Keith Woo. "Synthesis of Early Transition Metal Porphyrin Halide Complexes: First Structural Characterization of a Vanadium(III) Porphyrin Complex"
Inorganic Chemistry
Vol. 33 Iss. 1 (1994) p. 105 - 108
Available at: http://works.bepress.com/l-woo/119/