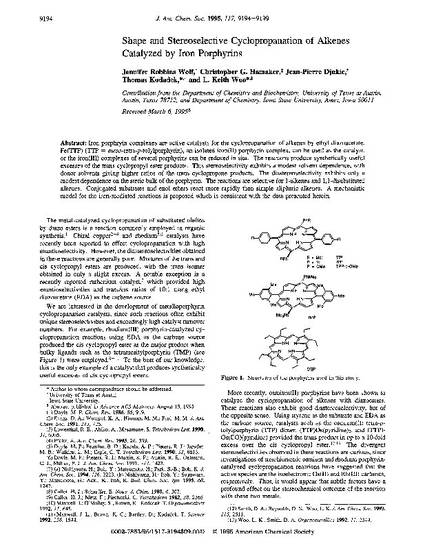 Article
Shape and Stereoselective Cyclopropanation of Alkenes Catalyzed by Iron Porphyrins
Journal of the American Chemical Society
Publication Version
Published Version
Publication Date
9-1-1995
Abstract
Iron porphryin complexes are active catalysts for the cyclopropanation of alkenes by ethyl diazoacetate. Fe(TIP) (TIP = meso-tetra-p-tolylporphyrin), an isolated iron(II) porphyrin complex, can be used as the catalyst, or the iron(III) complexes of several porphyrins can be reduced in situ. The reactions produce synthetically useful excesses of the trans cyclopropyl ester products. This stereoselectivity exhibits a modest solvent dependence, with donor solvents giving higher ratios of the trans cyclopropane products. The diastereoselectivity exhibits only a modest dependence on the steric bulk of the porphyrin. The reactions are selective for 1-alkenes and 1, 1-disubstituted alkenes. Conjugated substrates and enol ethers react more rapidly than simple aliphatic alkenes. A mechanistic model for the iron-mediated reactions is proposed which is consistent with the data presented herein.
Copyright Owner
American Chemical Society
File Format
application/pdf
Citation Information
Jennifer Robbins Wolf, Christopher G. Hamaker, Jean-Pierre Djukic, Thomas Kodadek, et al.. "Shape and Stereoselective Cyclopropanation of Alkenes Catalyzed by Iron Porphyrins"
Journal of the American Chemical Society
Vol. 117 Iss. 36 (1995) p. 9194 - 9199
Available at: http://works.bepress.com/l-woo/111/