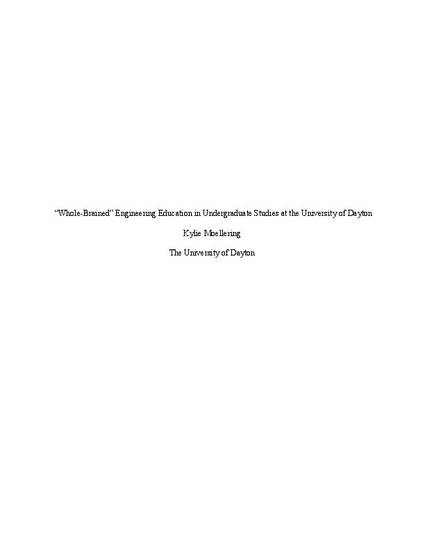 Unpublished Paper
"Whole-Brained" Engineering Education in Undergraduate Studies at the University of Dayton
Undergraduate Voices (2018)
Abstract
In this case study concerning "Whole-Brained" Engineering Education for undergraduate-level students, Dr. Ken Bloemer, the Director of the Visioneering Center at the University of Dayton, provided valuable information regarding this field. Voices from scholarly literature pertaining to the conversation and other undergraduate engineering curricula were then used to reinforce and give deeper insight into the various aspects of the changing engineering education format. The major change in pedagogy can be seen in the transferring from isolated left brain engineering education to the well-rounded whole-brained engineering education approach, which collaborates both aspects of logic and creativity. This main topic created three subtopics, namely Cultivating Creativity in the Classroom, Fostering Innovation Ideals in the Engineering Design Process, and Implementing Diversity of Thought into Engineering Team Dynamics stem from this interview. These aspects of the new engineering education curriculum, particularly at the University of Dayton, reflects the changing needs of the ever-advancing 21st century market and the consequential questions that have grown in perplexity.
Keywords
engineering,
engineering education,
education,
"whole-brained",
right brain,
left brain,
creativity,
engineering design process,
University of Dayton
Publication Date
Winter January 29, 2018
Citation Information
Kylie Moellering. ""Whole-Brained" Engineering Education in Undergraduate Studies at the University of Dayton"
Undergraduate Voices
(2018)
Available at: http://works.bepress.com/kylie-moellering/1/