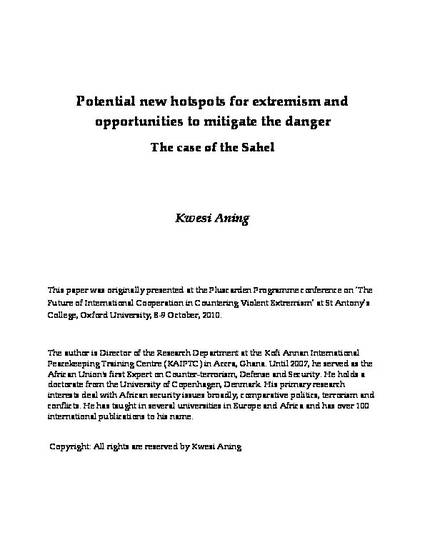 Presentation
Potential New Hotspots for Extremism and Opportunities to Mitigate the Danger: The Case of the Sahel
Pluscarden Programme Conference (2010)
Abstract
West Africa and increasingly some of its Sahelian states namely Burkina Faso, Mali, Mauritania and Niger are prey to a number of factors that make them suceptible to illicit trafficking, organized crime and terrorism. They are ranked among the most vulnerable 10 out of the 177 countries listed in this context. The structural weakness of the Sahelian states economies, characterized by small domestic markets and an over-reliance on only one or two export commodities, renders them highly susceptible to external shocks and low intensity security threats. The huge, open expanses of land with few settlements and a limited number of law enforcement officers compound the already formidable challenges facing these vast countries.
Keywords
West Africa,
terrorism,
organized crime,
illicit trafficking,
national security
Publication Date
October, 2010
Citation Information
Emmanuel Kwesi Aning. "Potential New Hotspots for Extremism and Opportunities to Mitigate the Danger: The Case of the Sahel"
Pluscarden Programme Conference
(2010)
Available at: http://works.bepress.com/kwesi_aning/8/