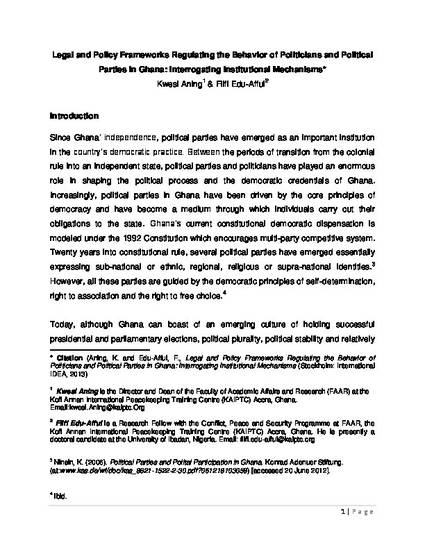 Presentation
Legal and Policy Frameworks Regulating the Behavior of Politicians and Political Parties in Ghana: Interrogating Institutional Mechanisms
International IDEA (2013)
Abstract
This article explores the legal and policy frameworks that exist to regulate the behaviors of politicians (elected or appointed) and political parties and highlight the existing loopholes in the legislation that can pose major threats to the legitimacy of democratic politics and governance in Ghana. The article is organized as follows: Section one reviews the existing established mechanisms for eliciting compliance with respect to political party formation and financing in Ghana. We argue that when it comes to the array of laws purposively crafted to regulate the behavior of political parties and politicians, Ghana has many of such laws. However, the greatest challenge has been, first, the political will to enforce these laws. Second, the seeming ineffectiveness of institutions of governance to function in ensuring that due process are always followed. Third, the tendency of political actors to politicize any unlawful behavior and crime to warrant non-action from state institutions. And finally, the multiple functions of public institutions have weakened the coordinating roles and responsibilities in ensuring the rule of law. In section two, we produce a comprehensive map of current existing mechanisms within the legal and policy frameworks that exist to regulate the behavior of politicians and political parties. We juxtapose the public rhetoric and behavior of politicians against anti-corruption frameworks such as the public officials' code of conduct, regulations on conflict of interest, procedures for appointing and promoting public officials and procurement rules. Third and finally, we conclude with some thoughts on the issue of transparency with reference to the disclosure of assets and the existing accounting regulation that govern the nature of the vetting processes for elected and appointed officials.
Keywords
Ghana,
political parties,
public institutions,
anti-corruption,
transparency
Citation Information
Emmanuel Kwesi Aning and Fiifi Edu-Afful. "Legal and Policy Frameworks Regulating the Behavior of Politicians and Political Parties in Ghana: Interrogating Institutional Mechanisms"
International IDEA
(2013)
Available at: http://works.bepress.com/kwesi_aning/30/