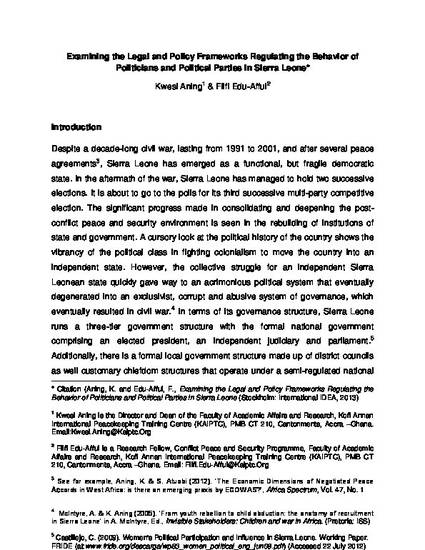 Presentation
Examining the Legal and Policy Frameworks Regulating the Behavior of Politicians and Political Parties in Sierra Leone
International IDEA (2013)
Abstract
This article critically examines the legal and policy frameworks that exist to regulate the behavior of politicians (elected or appointed) and political parties. More importantly, this article identifies the existing loopholes within the legislation that can pose major threats to the growth of democracy in Sierra Leone. Consequently, the article begins by briefly outlining the legal and institutional frameworks governing political party formation and as well as party financing. Additionally, we review the existing mechanisms for eliciting compliance from all forms of political behavior and reflect the level of commitment -both institutional and structural- that individual politicians and political parties are willing to agree and subject themselves to. Also, with respect to compliance, we evaluate the political culture in Sierra Leone by assessing the norms and values of politicians and political parties towards the entrenched ethno-regional patterns of voting and politicized ethnic identities with a view of sanctioning free-riders. Accordingly, the following section highlights pertinent issues such as ethnicity in the political landscape, transparency in political behavior as well as adherence to the political parties' code of conduct. Finally, the concluding section draws extensively on the loopholes within the legal frameworks on public procurement, bribery and corruption within the public sector and anti-money laundering activities.
Keywords
Sierre Leone,
democracy,
political culture,
corruption
Citation Information
Emmanuel Kwesi Aning and Fiifi Edu-Afful. "Examining the Legal and Policy Frameworks Regulating the Behavior of Politicians and Political Parties in Sierra Leone"
International IDEA
(2013)
Available at: http://works.bepress.com/kwesi_aning/29/